Popularity: 3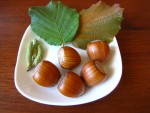 Jumbo Nut, high yielding. Preferred variety for all markets. It requires cross pollination with the Halls Giant. The tree is moderately vigorous and has few suckers and is an abundant cropper. The shell is moderately firm and light brown with pronounced darker-colored stripes. Nuts are large and attractive, averaging 4.2 g, and have a kernel percentage of 48%.
---
Popularity: 2
Halls Giant is the main pollinator for Ennis. It does not produce a big crop of nuts but it does shed large amounts of pollen late in the season. Every planting of hazelnuts should contain at least 20% pollinators.
---
Popularity: 1
These bushes produce masses of berries, high in Vitamin C. Ideal fruit for making jams, juice and even liqueur. Highly frost tolerant requires an area where winters are cold. Plant into rich moist free draining soil in a site protected from strong hot winds. Full sun or a site that gets late afternoon shade. Tolerant of heavy wet soils.
---
Popularity: 1
This is a low lying bush with bright orange berries enclosed in a pale brown parchment-like case. The berry is the size of a cherry tomato, is very aromatic and full of tiny hard seeds. They are delicious eaten straight or made into gooseberry Jam.
---