Popularity: 1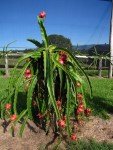 A spectacular night flowering cactus with highly ornamental pink skin & white flesh fruit containing numerous small black seeds. Fruit can be up to 1kg with a melon like flavour. Self pollinating selection from Vietnam.
Sourced from Picone Exotic Orchards
---
Popularity: 1
A large sized fig with purple skin and red flesh that has a very sweet rich flavour. Grown commercially due to its high yields it is also a popular selection for home gardeners.
---
Popularity: 1
A hybrid passionfruit that is vigorous and more tropical than the black. The large fruit has attractive red skin and crops very heavily from Autumn through to Spring.
---