Popularity: 1
Very fast growing slender tree with ferny foliage and bright yellow toothbrush flowers. Grows in a wide range of conditions including southern and inland areas. Good indoor plant.
---
Popularity: 1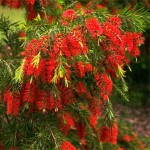 This callistemon is a very valuable tree for landscaping, as a screen plant, in erosion control or as a specimen or street tree. Bright scarlet red flowers appear in late spring and autumn and smaller numbers of flowers all year.
---
Popularity: 1
An attractive tree with glossy dark green foliage and profuse flushes of yellow and red pea-like flowers during summer. The green seeds of the black bean pod are poisonous. The timber is highly prized. Bird attracting. 40m
---
Popularity: 1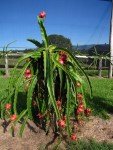 A spectacular night flowering cactus with highly ornamental pink skin & white flesh fruit containing numerous small black seeds. Fruit can be up to 1kg with a melon like flavour. Self pollinating selection from Vietnam.
Sourced from Picone Exotic Orchards
---