Due to ongoing research and development all varieties of oranges offered are of excellent quality with brilliant taste and colour. By planting different varieties you can have fruit for up to 10 months of the year.
Orange
---
A Spanish variety. Navelina produces fruit of excellent quality and brilliant colour, very early in the season. Good fruit size and naturally develops an outstanding deep red orange skin which is very attractive. Trees are compact and smaller growing than most varieties of orange.
---
Seedless variety, maturing later than all other navels, usually mid July through to October. Thin smooth rind. The fruits are similar to the Washington but they are picked a couple of months later in the season. They are therefore a great companion tree to plant with a Washington navel or a Navelina for an extended fruiting season of navel oranges.
---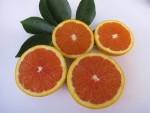 A red fleshed navel, this variety was discovered in Venezuela in 1976. It is smaller than many other navel selections but has pink flesh similar to Star Ruby grapefruit. In South Africa it matures slightly earlier than Washington navel. Although Cara Cara has yet to be evaluated fully under Australian conditions there is considerable interest in it locally.
---
The oldest and most popular navel grown in Australia. Has excellent skin colour and taste, and usually produces round fruit. Is inclined to drop fruit and split in some climates.
---
Late variety, very juicy, holds well well on the tree getting sweeter the longer the fruit are left, they can be picked as required. The ideal variety to extend the season right through to December. Crops very well in the subtropics. Valencis is a well known juicing orange which has a distinctive fresh orange tang.
---
This seedless orange is a bud sport of the Valencia, maturing a little earlier, its a heavy cropper and good juicing variety. Attractive compact tree.
---