MANGO TREE Mangifera indica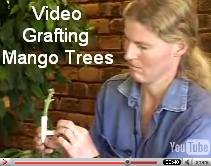 The Mango Tree is one of the most luscious of all tropical fruits with flavours varying from exceptionally sweet to turpentine. By planting different varieties of mangoes harvesting can be extended for up to 12 weeks.
---
---
---
---
---
---
---
---
Mango - Keow Savoey
---
---
Dwarf Mango - Palmer
---
---
---
---
Dwarf Mango - Sensation
---
---
---
---
---
---
---
Mango - Early Gold
---
Mango - Banana
---
Mango - Ricks Bowen
---
Mango - Alphonse
---
---
---
Mango - Van Dyke
---
| | | | | |
| --- | --- | --- | --- | --- |
| Height | Frost tol. | Pollination req'd | Evergreen/Deciduous | Harvest period |
| 6-12 | Medium | No | Evergreen | January - March |
Customer Comments on Mango Tree
Tree Information on growing, planting, pruning, maintenance, ripening, taste, pick or bonsai tips. But mainly how to grow a Mango Tree Share Your Advice or ask questions on our Forum
Mango Tree
Spirt of 76 Hybrid is super sweet with no fiber!! Hard to find, but if you can, BUY IT!! | Bonnie Dean - Cape Coral, FLORI 03-Jul-2007
Mango Tree
Irwin is called a dwarf variety - but no information on how big. Can anyone give me any info on this thanks | Deryn Thorpe - Perth, WA 28-Oct-2008
Mango Tree
Is there such thing as a "Bullock Heart Mango Tree"? A friend said that his Mango tree is of this type. | Nikhil - Brisbane, QLD 01-Dec-2008
Mango Tree
Do you send mango tree to WESTERN AUSTRALIA thank | Faris Westley - Port Hedland, WA 01-Jan-2009
Mango Tree
Unfortunately WA quarantine doesn't let us send mangoes to you. | Correy - Brisbane, QLD 07-Jan-2009
Mango Tree
I want a grow a mango tree in Mildura VIC. Very warm and dry but i have deep red loam soil. Can water regularly.What variety is the tastiest? I heard they can grow well here. | Ben Wilson - Mildura, VIC 07-Jan-2009
Mango - Sensation
I have a 4yr old Sensation starting to fruit well, but very disapointed in the turpentine flavour considering grafting over to Bowen mango | Nugget Schultz - Maryborough, QLD 04-Feb-2010
Mango Tree
Kensington pride,i found a bale of straw or cane mulch built up to the lowest leaves as wide as the diameter, keeps the tree healthy,this keeps the feeder roots cool in summer,warm in winter, to much fertiliser turns flesh orange spoiling the flavour | Alan Bosanac - Maida Vale, WA 18-Apr-2010
Mango - Alphonse
No one can compare Alphonso mango test with any other mango. The the best. | Pragna Trivedi - Sydney, NSW 04-Dec-2013

Customer Feedback
Create Your Own My Edible Backyard Page and your feedback will appear here.
---
Video - Grafting Mango Trees
Mango Flowers - Getting Better Fruit Set

Weed warning: Classifying the mango as a potential weed may generate some chuckles as most people would be quite happy to have a wild mango growing along their fenceline however it can cause some concern when upstream of protected native areas and in the sub/tropical areas they can be seen self seeding downstream or down hill of cultivated mango trees.
For Further Information:

http://www.hort.purdue.edu/newcrop/morton/mango_ars.html
http://www.dpi.nsw.gov.au/__data/assets/pdf_file/0009/120114/blight-disease-mango.pdf
http://www.agric.wa.gov.au/PC_92665.html#var
http://www.dpi.nsw.gov.au/__data/assets/pdf_file/0011/125876/mango-anthracnose-pf19.pdf