MUNDU
Botanical Name:
Garcinia dulcis
Description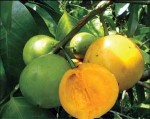 This Garcinia species is indigenous to Bornea, Thailand and Phillipines and is cultivated as a fruit tree in South East Asia and has been introduced to Tropical America. It thrives in moist shady tropical envirements and is not fastidious of soil types. The soft yellow flesh has a butter like consistency and pleasant acid flavour. It can be eaten fresh or preserved and served in sherberts. It can be also cooked and candied. The seeds have a pleasant taste.
Plant Information or Specifications
Max Height (when in the ground with good conditions)
2-5m
Can it Handle Frosts?
Sometimes
Amount of leaves in Winter?
All Leaves (Evergreen)
Quarantine Restrictions to these Areas
WA
Fruiting/Harvest Months
, February, March
Customer Comments on Mundu
Tree Information on growing, planting, pruning, maintenance, ripening, taste, pick or bonsai tips. But mainly how to grow a Mundu Share Your Advice or ask questions on our Forum

Customer Feedback
Create Your Own My Edible Backyard Page and your feedback will appear here.
---