Meet our Staff at Daleys Fruit Tree Nursery
Click the Staff Member to Find out About Them
We asked our staff below what their favourite fruit trees are and we would also love to know What your favourite fruit trees are too?
What is your job at Daleys Nursery?
I have done most jobs here at Daleys over the past 30 years, but now I seem to be chained to the office chair, balancing the books, planning and researching. But I still am very passionate about growing fruit trees to find homes across Australia, a very satisfying job.
What are your favourite three fruit trees in order?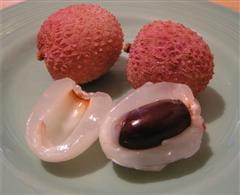 Definitely Lychee is my favourite, lying in my hammick with a bowl of chilled lychees on a hot summers afternoon is heaven
Coming in 2nd is a tree ripened White Adriatic Fig picked fresh off the tree and peeled to expose the lush red juicy flesh. Another heavenly experience.
No 3 is my favourite Citrus, a tree ripened Navelina Orange picked in June. The juicy and sweet flesh is superb.
There are my favourite Summer, Autumn and Winter fruits. I cannot let Spring escape so if I was to pick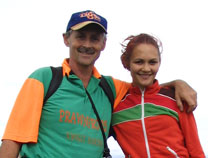 my favourite Spring fruit, yes it has to be a tree ripened Apricot.
What made you passionate about fruit trees?
I have always had a passion for things earthy, but I would have to say cycling around New Zealand 30 years ago fruit picking and devouring sometimes more fruit than I should, made me think what a wonderful food we have in fruit. And realising just how many different flavours, sizes, colours and variety there are in fruit trees.
What do you do at Daleys Nursery?
Pauline has been very integral in transforming our dispatch, Letting customers know when their plants are ready and looking after many of our customers question.
Introducing Kath
Kath introduces herself here in a short video
What do you do at Daleys Nursery
I have been here at Daleys Nursery since 2003. During that time my role has changed. I started in propagation, dispatch and retail, while nowdays I am found in the office where I try my best to answer all the tricky questions that are sent in to us, I do the accounts and I am also the video presenter for Daleys Nursery. I also help out Greg with general office admin work and when he goes on holiday I get to play at being Greg, this is always fun. In my free time away from work I have a bush block where I am restoring the rainforest, as well as where I grow vegerables and have a large home orchard. Sometimes I get to sit in the chair on the local gardening program on ABC radio which is always interesting as I get to speak to a wide range of gardeners.
What are my 3 favourite fruit trees in order?
The Panama Berry - It is a fast spreading and attractive shady evergreen tree that gets smothered in small sweet red fruits in the warmer months. It is my favourite snacking tree and is a real winner with visiting kids who love to suck the inside out of the skin through the stalk hole. I think they taste like vanilla ice cream. They are never better than when eaten as they are picked in the shade of the canopy. A great tree for people who have a sweet tooth and are frost free. This is by far the fastest growing tree in my orchard and I am always cutting the top out to bring in for cutting material.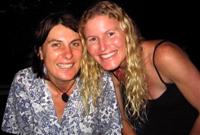 2. The Fingerlime - I love these extremely prickly native citrus not only for the interesting colourful finger shaped fruits but also because they naturally occur where I live. Their dense spiky habit provide perfect nesting sites for small birds and I have red browed finches who nest in my orchard tree annually. They are also the native food for the grubs of the citrus butterfly which are pest of introduced citrus. I have found these butterflies prefer my fingerlimes and tend to lay on them in preference to my other citrus trees. I use the fruit fresh off the tree, they are ripe when they drop when touched (or poked with a stick to save on being spiked) I cut them in half and squeeze the balls of lime juice onto a saucer and flick out the seeds. I like to add the lime balls to salad dressings, they look gorgeous in a glass dressing bottle on the table and also drizzled over salad greens. The red limes also look and taste superb when stirred through rice.
3. Aromatic spice trees - I love my aromatic trees and these feature throughout my orchard. My cinnamon is a stunning ornamental with a vibrant red flush and cinnamon scented leaves it is always interesting. I am yet to try to harvest the back and make cinnamon sticks. My allspice is also a favourite, it has a lovely form and large fragrant spicy leaves, I often use them to line the bottom of cake tins and let the aromas infuse in the oven. The leaves are perfect to pick and then scrunch and sniff while wandering around the orchard. The lemon scented plants are also essential for my kitchen garden, lemon myrtle and lemon verbena are my personal picks.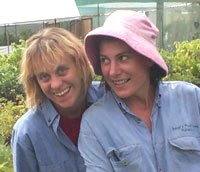 Always great to throw a couple of leaves in the rice as it cooks. All these add interest to my orchard and once again visiting children love the whole sensory experience.
Why am I passionate about growing trees?
Because they are interesting and essential to living. They make my land an amazing place and inspire me. They offer me sensory experiences and food. They are home to beautiful creatures and strange bugs. And so much much more.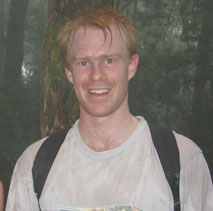 Correy
What do you do at Daleys Nursery?
I look after the technology in our business with a big emphasis on our website.
What are your favourite 3 Fruit Trees in Order?
1. Dwarf Coffee Trees (Catui) - The desire to achieve the perfect cup of coffee has given me a love for the coffee tree. I have 8 growing in pots and my older ones have beans on them. They are a lush evergreen tree and when they flower it is spectacular and the smell is overwhelming like a frangapani. It is amazing how such a small tree can produce so many beans even after 2 years. They are definitely a talking point for me.
2. Black Sapote or Chocolate Pud
ding Fruit - This fruit is a bit bigger then an orange but it is action packed. The ones I have eaten had no seeds and the insides are thick and creamy. The taste is splended and yes in my opinion there is definitely a chocolate pudding flavour especially if you mix it with coconut to give the milky flavour of chocolate. I now have 2 varieties that I am growing in pots the bernicker and the ricks late black sapotes.
3. Mango Tree - I am most proud of my mango tree that I am growing in a pot. Most people who see it can't believe that such a small tree can produce huge mangoes. I have the Glenn variety however most people like to grow the Dwarf Irwin Mango Tree in pots. The Glen has the best flavour though.
Why am I passionate about growing Trees?
The joy I experience from growing fruit trees has made it one of the best hobbies I have ever had. It is so rewarding to watch the fruit trees mature and to apply the tricks of the trade to get your fruit trees to produce. Keeping pests at bay is all part of the fun. Having your own mini orchard is a reward in and of itself.
Michelle
What is your job at Daleys Nursery
Among other things, like sweeping the staff skating rink. There's every chance that the plant you order off Daley's was potted by me, put in our nursery to grow by me, maintained by me. Then picked for dispatch to you by me.
What is your favourite 3 fruit trees in order?
Orange. I love fresh squeezed orange juice and could drink it by the bucket load. I also like that the tree looks robust and green most of the year and has a great scent. Did i mention the juice. Macadamia. They are just so yum. You can have them raw or roasted, in savoury dishes or in desserts, even oil. They have a good shelf life. The mature trees look good. And they're Nuts, i feel a bond with them. Avocado. They scream 'Eat Me.' Super Yum. They hurt when they fall on your head though.
Why am i passionate about growing trees?
I think to grow your own food that you can share and swap is great. Time spent in the garden is a good healer for the stresses of life. Plants and trees are a beautiful thing. Plants and trees that can feed us are a wonderful blessing for mind and body.
What is your job at Daleys Nursery?
I clean the staff swimming pool and stock up the fridge. If there's any time left, I serve customers at our retail shop, restock retail, process wholesale and mail order plant orders, and stocktake the rainforest tubestock.
What is your favourite 3 fruit trees in order?
That's a tough one as I have many many favourites, so I'll choose the toughest tasty ones.
1. Mango Tree - If you want a good shade tree the mango is first choice and are the easiest trees to grow. If you live in Melbourne the good old seeding Bowen or Kensington Pride would be the toughest, tolerating -1 degree frosts. Generally, seedling Mango trees are taller and tougher than grafted varieties. Also a seedling Bowen can start bearing from 5 years onward. If you can't keep up with the fresh fruit try drying them into leathers. It's very easy
2. Wampee Tree - I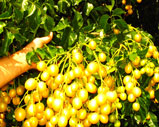 have two Wampee seedling trees, and I must confess it's been a few years since I have top dressed them, and yet one fruits prolifically every year the other which is younger doesn't fruit as much. Their fruits are not as big and as sweet as Daley's grafted varieties, but their taste is sweet enough for me. If I needed to plant more I would choose the Guy Sam it's the brown skinned variety being not to sweet. Compared to the Yeem Pay which is very sweet.
3. Persimmon Tree (non astringent) - Y
ou can eat them at any stage from firm green to bright jelly orange/red and never have that aspirin taste, when perfect bright orange the taste reminds me of the soft drink "Fanta". Also as a bonus they are very ornamental, being deciduous the leaves colour up nearly red reminding me that Winter is coming. The IZU variety is the earliest (Feb) which is a must and then with careful selections you can extend your season to May.
Why are you passionate about growing trees?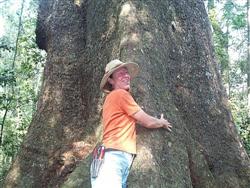 Had I not met my partner who swept me away from the city to move to the bush. I think I would still be in my office job in Brisbane today. It was truly amazing how I took to the bush. I just didn't know there was this "save the planet passion" just waiting to burst out of me, until I actually moved into the bush and started noticing the beauty, tranquility and amazing wildlife. Then a good friend of mine gave me the 1st Permaculture book Vol 1 (I'm talking 1987) and that's when my life really changed. In 1991 we moved to the Northern Rivers and purchased a 300 acre property which is situated between a gorge at the end of a valley. Having a permanent creek, incredible wildlife and one of the last remnant rainforest in our valley. We declared it a Wildlife Sanctuary. 17 years later we have planted over 100 fruit trees most are bearing and forest regenerating is always continuing at our place. For me growing my own organic food is the key to a healthy and happy long life.
What is Calebs Job at Daleys Nursery?
Caleb looks after our dispatch department.
What are your favourite 3 Fruit Trees in Order?
Why are you passionate about growing Trees?
What is your Job at Daleys Nursery?
Dan works in our propagation department.
What are your favourite 3 Fruit Trees in Order?
Why are you passionate about growing Trees?
What is your Job at Daleys?
My specialty is planting seeds, from both local rainforest species and edible fruit or nut trees all over the Earth. After they have sprouted into Seedlings I then Tube them up into a larger pot size and celebrate their graduation from Polyhouse 1 into Polyhouse 2. In the Last year I have really enjoyed collecting seed from local species that play an integral role in our eco-systems, everything from providing a food source for the birds, creating habitat for animals or just simply purifying the water in our catchment area and keeping the river from eroding away (which it does when there are no trees left). I also spend quite a bit of time in Retail serving customers, which I absolutely love, as there so many inspiring people out their who are either creating a permaculture garden or just planting out an area on their property with natives to restore biodiversity and balance their own ecological footprint. In between this and that I help the crew get plants out and send them off to their new homes all around Australia. It's always a buzz to see what some people out there are going to have growing in their home.
What are your favourite 3 Fruit Trees in Order
This is very difficult, as I absolutely love most fruit and nuts
1. Star Apple - I have to say this is one of the yummiest fruits I have ever tasted, very sweet and beautiful texture, makes you go "mmm Mmmmmm"
2. Acerola Cherry - this is a yummy little tropical fruit from South America that I just love, it fruits many times per year and has a vitamin C content 40 times the oranges !!!
3. Midjim Berry - I have included a Bushfood as that is one of my passions, this is a really tasty little white berry, that comes in the thousands, it is a Real treat from mother nature for Indigenous peoples of this land.
Why are you passionate about growing trees?
Trees are an integral part of the Earths most biologically diverse ecosystems. They are currently being logged at an incredibly unsustainable rate (300 acres every single hour, in South-east Asia alone). With the effects o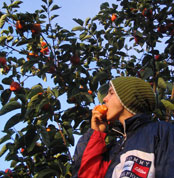 f climate change and deforestation placing massive stress on an already degraded biosphere, the planting of Trees offers hope for healing the land and restoring balance to the Earth-system.
Quotes that inspire Paul:
"The creation of a thousand forests is in one seed" Ralph Waldo Emerson
"Do not be afraid to go out on a limb … that's where the fruit is" Anonymous
"A society grows great when old men plant trees whose shade they know they shall never sit in." Greek Proverb
"The symbolism – and the substantive significance – of planting a tree has universal power in every culture and every society on Earth, and it is a way for individual men, women and children to participate in creating solutions for the environmental crisis."
What is your job at Daleys Nursery?
My job at Daley's Nursery is a nursery hand, especially cuttings of different types of fruits trees.
What is your favourite 3 Fruit Trees in Order?
1. Cherries
2. Langsat or Lanzones
3. Mango Trees
Why are you passionate about growing trees?
I'm passionate about growing trees because I love to see them grow and I like gardening.
What is your job at Daleys Nursery?
Propagation co ordinator, overseer. Plant protection, ie, pests and diseases. Irrigation controller, maintainance weed control. Nursery cleanliness and hygiene etc, etc, etc.
What is your favourite 3 Fruit Trees in order?
1. Persimmon
2. Lychee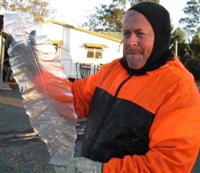 3. Jaboticaba
Why are you passionate about growing trees?
It's challenging. At the end of the day I can see that I've been there and you can watch the plants growing. It's interesting why plants behave the way they do.
What is your job at Daleys Nursery?
- Organize plants for dispatch
- Decide what is available for sale
- Maintenance of buildings, machinery, roads
- Organize plants that are required for potting
What is your favourite 3 Fruit Trees in order?
1. Pecan - A beautiful shade tree with its lime green foliage and you receive great nuts.
2. Black sapote - Bronze green foliage, its shape and you receive chocolate mousse
3. Gulf Gold Plum - You get a large amount of great tasting plums.
Why are you passionate about growing trees?
Because I am doing something that has a variety of activities, Growing plants has a positive effect on the environment (I hope that's the effect) It is a challenge to grow a variety of plants under much the same environment and condition.
What is your Job at Daleys Nursery?
I work in dispatch, it is my job to make sure that all the plants we send to our customers are beautiful. I also work in the office taking orders over the phone and helping with customer inquiries. Over the years that I have worked at Daleys Nursery I have been able to plant out an exciting home orchard and many native plants in my garden which I love.
What are your favourite 3 Fruit Trees in Order?
Having grown up in Queensland the mango has to be one of my favourites, a Bowen or more recently the Nam Doc Mai.
Freshly picked figs are delicious and the trees grow and produce very quickly.
Being a cherry lover, I discovered the grumichama a few years ago. This is a great alternative and the tree is beautiful.
Why are you passionate about growing fruit trees?
The satisfaction of planting, nurturing and watching nature work its magic is truly encouraging and inspiring to continue planting.
What is your Job at Daleys Nursery?
Propagation mainly.
What are your 3 Favourite Fruit Trees in Order?
Mango Trees - A good year will fill your pantry with chutney.
Lychee Trees - Superior taste sensation if the birds leave any.
Macadamia Nut Tree - Roast them in shell on top of fire place and they fill your home with the most delicious aroma, plus they are superior tasting nuts.
Sophie
What is your job at Daleys Nursery?
I keep the Retail Shop stocked up with all the wonderful fruit, nut and ornamental trees that we grow, as well as Bush Foods and natives From a horticultural background and strong sense of the importance of food in our society I see my role as educator and supporter of those wanting to grow trees in their backyard, orchard, food forest or regeneration of the land.
What are your favourite three fruit trees in order?
I would have to say the banana is my favourite. It has been said that there are more nutrients in the skin of a banana than any other fruit. The soft, sweet mucilaginous texture is a mouthful of goodness. The flowers and leaves can also be used for cooking and the whole plant is widely used across tropical and subtropical regions of the world. The Coconut needs to be included. From the sweet refreshing water inside, full of electrolytes, to the milk, creams and butter derived from the meat, which can be eaten raw or dried and cooked. The good saturated fats of the oil can be used for cooking, skin care and medicinal uses. Sugars can be extracted from the trunk and a plethora of uses can be harnessed from the fibrous exterior. Also, I have seen birds resting on them at sea! The Wampee is a delicious, aromatic almost musky fruit with grapelike cluster of fruit hanging from a rounded tree with aromatic dark green foliage. I prefer the Guy Sam variety which transfers its musky odour to the palate as you squeeze soft, slimy flesh into your mouth over the sweeter Yeem Pay. They have only one or two seeds and I also like to chew on the skin!
What made you passionate about fruit trees?
After moving to the Northern Rivers my eyes were open to whole new diversity of plant species including bush foods for ourselves and wildlife. The importance of food biodiversity and sustainability, using ecologically sound practices is becoming an ever more apparent and an essential part of our thinking toward the future. I now feel that with the knowledge I have gained I can make a positive contribution to that future. Bugs an'all!
What are your favourite 3 fruit trees in order?
1. Persimmon- I love the delicious jelly sweetness of the astringent varieties when fully ripe. The Autumn displays of red and orange leaves hanging on the tree bring great beauty to the garden. I have fond memories of eating baskets full of persimmons when I was younger.
2. Nectarine- The Spring blossoms are spectacular and they are the taste of summer for me, both the white and yellow varieties make me happy.
3. Lychee- Absolutely incredibly wonderful fruits and they are such beautiful, striking trees with gorgeous flushes of pinkish-red new growth. It is a special thing to be able to pick your own Lychees.
Why are you passionate about growing trees?
Trees are amazing, they provide so many essential gifts to the world- such as air, food, habitat, beauty, shade, mulch etc . I especially love to harvest food for my family. It is very satisfying to plant trees, watch them develop through the seasons and know that future generations will benefit from the trees I plant as well. Trees are so precious and valuable with all the work they do, we all need to plant more trees!
Tyler
What are your favourite 3 fruit trees in order?
In the Australian Army ration pack they use Peaches, Apricots and Pears.
Why are you passionate about growing trees?
I like to grow the Red Poppy because it was one of the first flowers to grow on the devistated battlefileds. I have grown this flower at home and it has special significance to the Autralian Army and myself.
---