PAPAYA
Botanical Name:
Carica papaya
Description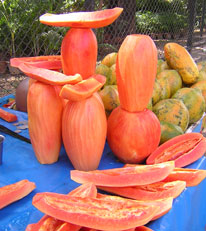 Watch Video NEW Also known in Australia as paw paw trees these fast growing trees can commence bearing within 12 months of planting. Papaya are often cultivated as garden trees due to their attractive shape, manageable size and large tropical looking foliage as well as the delicious fruits they produce. Native to southern Mexico and Central America, papaya are now commonly found in tropical and sub tropical climates where they are very easy to grow and are highly productive trees for about 5-6 years. The three types of papaya can all be distinguished by their flowers. If you are growing the male and female papaya one male will happily fertilize seven females or more, bees are the main pollinator so they will need to be able to fly between trees.
Fruits take 60-120 days to mature and will need a long warm summer to fully ripen. In warm climates fruits will ripen all year round and healthy trees can produce 30kg of fruit a season.
or 4 interest-free payments with
LEARN MORE

Planting Guide
Plant Information or Specifications
Max Height (when in the ground with good conditions)
2-5m
Can it Handle Frosts?
Likes Temps above 5deg
Amount of leaves in Winter?
All Leaves (Evergreen)
Fruiting/Harvest Months
February, March, April, May, June, July, August, September, October, November, December,
Customer Comments on Papaya
Tree Information on growing, planting, pruning, maintenance, ripening, taste, pick or bonsai tips. But mainly how to grow a Papaya Share Your Review & Advice or ask questions on our Forum
Papaya
Name confusion - In Australia usually red flesh = papaya, yellow flesh = pawpaw. In USA,sometimes all papaya are called papaya and a different species, Asimina triloba, is called pawpaw. but it seems this is not consistent in either country | Kevin Oxford - Glen Forrest, WA 11-Jan-2020
Papaya
A papaya is not a pawpaw, irregardless of what you call it. Pawpaws are a completely different fruit than a papaya. Pawpaws are native to the US. And are often called Custard Apples. | Rhys Rigsby - Lakewood, Ohio 06-Mar-2019
Papaya - Southern Red
Pawpaw, the common name used in Australia for Papaya spp. (for over 40 years) vary in quality and flavour. The 1st red/orange Pawpaw I tried was in 1993 and I was hooked. I've watched a fruit bat & a possum fight over one in my tree. Obviously Popular! | Whizz - Brisbane , Qld 02-Jul-2018
Papaya - Col de Monte
I gotta preferred this web web page it appears very valuable quite advantageous ebfgddefggdfacdf | Smithd702 - Virginiab, VA 17-Jun-2015
Paw Paw
Grow from seeds, planted densely in a garden bed. This ensures a mix of male, female and bisexual plants. Let them grow into each other as a natural form of grafting. | Carl Ramirez - Kensington, NSW 15-Feb-2011
Paw Paw
Here in Oz we call them paw paws! Just tasted my first homegrown bisexual paw paw (papaya) and was amazed how much better tasting it was compared to the insipid paw paws that are common in supermarkets. Very sweet with a wonderful aftertaste. | Happyearth - Wollongong, NSW 17-Oct-2009
Paw Paw
The name Paw paw also refers to Asimina triloba. I was disappointed to find this article about papayas under the paw paw name. Essentially I agree with Mr. Morgan's view. | E. Griffith - Berkeley, CA 27-Jul-2009
Pawpaw - Red RD2 Hybrid
I am growing the Bi Sexual Red Pawpaw in my Aquaponics system. It is growing amazingly well setting fruit just 10 weeks from seedling. | Murray Hallam - North Maclean, QLD 05-Jan-2009
Paw Paw
I believe Pawpaw is a little grown North American tree with fruit somewhat like the Annonas. The kinds you list here seem to be papayas, which are not synonymous with the term pawpaw. However, a real pawpaw can grow in temperate climates also! | Matt Morgan - Dallas, TEXAS 12-May-2008
Paw Paw
Mine is a single red bisexual variety. Grown against an Eastern facing wall, it weathers Winters quite well. Prolific bearer, likes good water and heavy feeding. Lopping produces multi-stems. Green fruit can be eaten as a vegetable. Very sweet when ripe. | David White - Newcastle, NSW 03-Jun-2006

Customer Feedback
Create Your Own My Edible Backyard Page and your feedback will appear here.
---
For Further Information: