Youtube Mamey Sapote, Pouteria sapota. A striking, tropical fruit tree that produces delicious, sweet fruits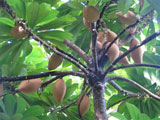 Very popular fruit in Florida, the Caribbean islands, and Central America where the fruit is highly esteemed. The mamey sapote was cultivated by the native peoples of Central America for hundred of years. It is this fruit that kept Cortes and his army alive on their famous march from Mexico City to Honduras. Fruit is large, up to 25cm long with orange flesh tasting somewhat like a flavorful pumpkin. Almost always eaten fresh out of hand or used in desserts and drinks. Even though of tropical origin the Mamey will grow and bear very well in the subtropics as long as it is protected from frosts when young
Extra Information
For Further Information:
http://www.capetrib.com.au/mamey.htm
Popular in Category: Mamey Sapote
Customer Tips & Reviews Mamey Sapote
Brisbane, QLD, Australia, Australia
Mamey Sapote
You are not pronouncing it right. It is not mamy, it is mam-ey ( as in "say' or hey!)
South Johnstone, QLD, Australia
Mamey Sapote - Pontin
I love these and can't wait for the fruit each year. They grow well in the tropics and survived "Larry" and "Yasi" , so are very tough. The hard part is trying to tell when the fruit are ripe as they don't change colour and don't all ripen together.