MAMEY SAPOTE
Botanical Name:
Pouteria sapota
Description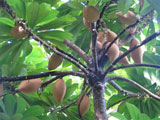 Very popular fruit in Florida, the Caribbean islands, and Central America where the fruit is highly esteemed. The mamey sapote was cultivated by the native peoples of Central America for hundred of years. It is this fruit that kept Cortes and his army alive on their famous march from Mexico City to Honduras. Fruit is large, up to 25cm long with orange flesh tasting somewhat like a flavorful pumpkin. Almost always eaten fresh out of hand or used in desserts and drinks. Even though of tropical origin the Mamey will grow and bear very well in the subtropics as long as it is protected from frosts when young
Mamey Sapote - Gray
Mamey Sapote - Magana
Mamey Sapote - Pontin
or 4 interest-free payments with
LEARN MORE

Planting Guide
Plant Information or Specifications
Max Height (when in the ground with good conditions)
+10m
Amount of leaves in Winter?
All Leaves (Evergreen)
Fruiting/Harvest Months
March, April, May, June
Customer Comments on Mamey Sapote
Tree Information on growing, planting, pruning, maintenance, ripening, taste, pick or bonsai tips. But mainly how to grow a Mamey Sapote Share Your Review & Advice or ask questions on our Forum
Mamey Sapote
You are not pronouncing it right. It is not mamy, it is mam-ey ( as in "say' or hey!) | Jz - Brisbane, QLD 04-Jan-2017
Mamey Sapote - Pontin
I love these and can't wait for the fruit each year. They grow well in the tropics and survived "Larry" and "Yasi" , so are very tough. The hard part is trying to tell when the fruit are ripe as they don't change colour and don't all ripen together. | Stephen Cole - South Johnstone, QLD 09-Mar-2016

Customer Feedback
Create Your Own My Edible Backyard Page and your feedback will appear here.
---
For Further Information: