Daleys Fruit Tree Nursery
Testimonials
Shop
News
Specials
Catalogue
Contact
Forum
Blog
My Account
My Edibles
Fruit Trees > Subtropical Fruit Trees > Grumichama

GRUMICHAMA, Eugenia dombeyi

This fruit is the tropical equivalent of the cherry and just as difficult to resist. The purplish-black fruit is borne in clusters and is delicious eaten fresh. The sweet white flesh is highly prized for jams, jellies and pies. If you are looking for a spectacular ornamental specimen than it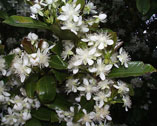 would be hard to go past this tree with its magnificent flowers, glossy dark green foliage and full growth habit.
The tree is hardy to most conditions provided you can offer it protection from frosts paricularly when young. It can withstand light frosts once established. While the tree will still retinly its highly ornamental qualities during drought periods, the crop quality deteriorates if adequate water is not available during fruit development.
The tropical equivalent of the cherry. The purplish-black fruit 2cm diameter are produced in clusters. Flesh white, melting and tasty. Mostly used for fresh eating, but also highly prized for jams, jellies and pies.
---
This fruit is the tropical equivalent of the cherry and just as difficult to resist. The fruit is borne in clusters and is delicious eaten fresh. The yellow form is almost identical to the dark form apart from the yellow fruit.
Comments (5)NEW | Mega Tube | $14.90 AU | In Production |

---
| | | | | |
| --- | --- | --- | --- | --- |
| Height | Frost tol. | Pollination req'd | Evergreen/Deciduous | Harvest period |
| 2-4 | Medium | No | Evergreen | November - December |
---
Tips on Grumichama BETA
We welcome your Tips on Grumichama. Share Your Tip.
Grumichama
These are one of the easist fruit trees to grow, they take next to no care and the fruit is fantastic in flavour. the only problem i have is keeping the bats and lorikeets out of my trees, i net them, so i can collect some as well | Sabina Diplock - Mount Cotton, QLD 07-Dec-2005
Grumichama
A bit slow in cooler climes. Keep well watered and lightly fertilise regularly. Beautiful, sweet, black, berry fruit. Highly ornamental shrub / small tree. | David White - Newcastle, NSW 04-Feb-2006
Grumichama - Yellow
I have found the black variety fruits better in Sydney than the yellow variety | Peter Richardson - Turramurra, Sydney, NSW 08-Apr-2006
Grumichama - Yellow
In fact, the yellow variety flowers for me but fails to set any fruit at all - does anyone else have this problem? | Peter Richardson - Turrramurra, Sydney, NSW 06-Oct-2006
Grumichama
Tastes like nectarine | Chris Jw - Casino, NSW 14-Nov-2006
Grumichama
This season we are now getting a second crop-- tree takes very little care but rewards us with very tastey fruit | Ron Briggs - Grafton, NSW 28-Feb-2007
Grumichama
They appear to dislike windy areas and loose their fruit from wind stress- potash may help | Richard Oliveri - Innisfail, QLD 01-Dec-2009
Grumichama
Needs mod. to full sun to fruit. Quick fruit development from flower to eating stage - best to net them or birds will beat you to them! | Veronica F. - Wongawallan, QLD 05-May-2012
Grumichama
My 5 year old tree blew over in Cyclone Yasi and despite lots of care has not yet regained full foliage but despite his has yielded plenty of delicious fruit May 2012. | Ted Nicholls - Innisfail, QLD 18-May-2012
---
---
Updated: 18th of November, 2010 at 9:22am © Disclaimer/Privacy/Copyright