TARO
Botanical Name:
Colocasia esculenta
Description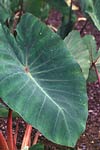 Taro is a staple crops of the Pacific Islands and is also very popular throughout many parts of Asia. The delicious tuber can substitute potato in almost any dish, baked, boiled or made into chips. Its very ornamental heart-shaped leaves make a great spinach when cooked thoroughly. Note that Taro leaves contain a oxalic acid, which will cause irritation to the throat if the leaves are consumed without sufficient cooking.



T he plant prefers moist, deep soil and it grows well in both full shade and full sun.
While in the Pacific Islands ( the place of origin for the Taro) there are hundreds of different varieties, in commercial production in Australia we generally see two main cultivars, which to simplify the diversity have been separated into:
Be aware that the Taro looks quite similar to the Elephants Ear which is a common ornamental plant but is NOT edible.
or 4 interest-free payments with
LEARN MORE

Planting Guide
Plant Information or Specifications
Max Height (when in the ground with good conditions)
1-2m
Can it Handle Frosts?
Likes Temps above 5deg
Amount of leaves in Winter?
All Leaves (Evergreen)
Fruiting/Harvest Months
February, March, April, May, June, July, August, September, October, November, December,
Customer Comments on Taro
Tree Information on growing, planting, pruning, maintenance, ripening, taste, pick or bonsai tips. But mainly how to grow a Taro Share Your Review & Advice or ask questions on our Forum
Taro
I found the Pacific taro gave quite a poor return for 9 months of vigorous growth. The smaller varieties seem to offer much better value unless space and water are not a concern. | Ken Lovell - POONA, QLD 16-Nov-2018
Taro
Taro grown in a large fishpond is relished by koi. Plant against pond side and cover with rocks, fish eat the emerging roots and it adds to the eco system.Float polystyrene foam boxes full of water loving edible plants in the pond. | Joyce Crouchley - Boya, WA 08-Aug-2007

Customer Feedback
Create Your Own My Edible Backyard Page and your feedback will appear here.
---
For Further Information: