Chestnut Nuts By Couleur [CC0 1.0] (Photo Credits)
A chestnut tree is a fast growing, long lived, large deciduous tree that produces abundant crops of nuts during Autumn. Although regarded as a cold climate tree chestnuts can be grown in the subtropics provided they have well-drained soils to minimize their susceptibility to Phytophthora. Planting 2 varieties will ensure well-filled nut burrs. Seedling chestnuts are worthy of consideration and can start cropping after 4 years. Nuts are produced inside a very prickly husk, which splits open to reveal the nuts when they are ripe. Nuts are large, brown and shiny.

Chestnuts are best eaten either boiled or roasted. To prepare them, boil whole in their shells for about 30 minutes, once they are cooked, cut the soft shell and the kernel can be scooped out. To roast them in the oven, open fire or microwave be sure to pierce the outer shell to prevent them from exploding. After cooking remove the outer shell and inner bitter tasting skin before eating.
Extra Information
For Further Information: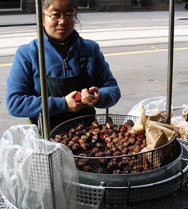 Popular in Category: Chestnut Tree
Customer Tips & Reviews Chestnut Tree