DWARF PEACH TREE
Description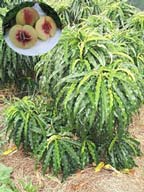 This tree is sought after just as much for its ornamental value as it is for the delicious fruit. Although small in stature these peaches are anything but small in taste.
They are a white fleshed freestone variety ideally suited to the subtropics. The compact size of this variety (height can be kept to 1 metre) makes it ideal for the back yard planting, container planting or as a potted specimen. An added advantage of this variety is its beautiful pink flowers that bloom in late July making it also very ornamental. The fruit ripen around late December.
or 4 interest-free payments with
LEARN MORE

Planting Guide
Plant Information or Specifications
Customer Comments on Dwarf Peach Tree
Tree Information on growing, planting, pruning, maintenance, ripening, taste, pick or bonsai tips. But mainly how to grow a Dwarf Peach Tree Share Your Review & Advice or ask questions on our Forum
Dwarf Peach Tree
I was given a Dwarf Peach Tree in 1965 & It survived until I moved from Brisbane to the Mary Valley Hinterland & the drought finally took it. But a sucker has come up & it is now ready to flower this year! | Anthony Andrew Childs - Amamoor, QLD 05-Jul-2014
Dwarf Peach Tree
Our pixie dwarf peach trees, we put xmas lights on the fences around them in late winter early spring, and cover with bed sheets on late winter frezzing. we often get freeze after trees come in bloom. some seasons this works well and we have large crops. | Steve Castelo - Payson, AZ 29-May-2012
Dwarf Peach Tree
I live in Northern Ohio and for 2-3 months my peach is completely under snow. Come spring it takes right off and I harvest15-20 peaches off of it and they are deliciouse. | Bill Allen - Madison, OH 19-Feb-2011
Peach - Dwarf
Fruit is full sized and full flavored, I look forward to these ripening more than any other stone fruits in my yard | David O'bryan - Mansfield, QLD 18-Oct-2008
Dwarf Peach Tree
Plant dwarf peach tree in half wine barrell and water with used dish washing water and watch your tree fruit with lots of fruit. | Shaun Tomkinson - Klemzig, SA 14-Oct-2008

Customer Feedback
Create Your Own My Edible Backyard Page and your feedback will appear here.
---