POMEGRANATE TREE
Botanical Name:
Punica granatum
Description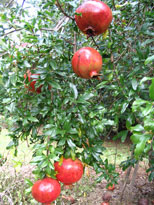 The Pomegranate tree is an ornamental shrub producing fruit with a hard, leathery deep red or yellow rind. When opened the fruit exposes shimmering translucent kernels. The juicy flesh is tart-sweet and surrounds nutlike seeds that are edible and add a bit of a crunch to the overall texture. Pomegranates store extremely well in a cool dry place and continue to sweeten off the tree. The plant itself is very hardy and highly ornamental, it has large showy flowers and is suitable for use as a feature plant, for hedges and

container growing, it also makes an attractive and interesting bonsai specimen.

A shrub or small tree to about 4 m, the pomegranate is multi stemmed, spiny and extremely long lived. Plants are usually pruned to form a short but well defined trunk allowing 4 or 5 shoots to develop into a multi branched form. Pomegranate is not fussy about soil condition, in its native environment in Northern India and Iran it is found growing in rocky gravel.


Pomegranate - Vietnam seedling
or 4 interest-free payments with
LEARN MORE

Planting Guide
Plant Information or Specifications
Max Height (when in the ground with good conditions)
2-5m
Amount of leaves in Winter?
No Leaves (Deciduous)
Fruiting/Harvest Months
March, April, May
Customer Comments on Pomegranate Tree
Tree Information on growing, planting, pruning, maintenance, ripening, taste, pick or bonsai tips. But mainly how to grow a Pomegranate Tree Share Your Review & Advice or ask questions on our Forum
Pomegranate Tree
Pomegranates must be pruned for many reasons related to the health, production and general well-being of the plant. For more information about pomegranate pruning visit tuis link. | Robert K - Laguna, Nsw 30-Sep-2019
Pomegranate Tree
I planted 3 years ago on west face hill of almost all clay. I forgot about it even during the drought of last summer which killed a lot of native and non-native plants. With a good spring and summer this tough little plant produced Good fruit this year. | Euan - Laguna , Nsw 16-Jun-2019
Pomegranate Tree
I planted 4 years ago on heavy clay western facing hill in Hunter Valley. Worst drought in years, I never watered. This year nice fruit after good spring rains. Will grow more they are so hardy. | Euan - Hunter, Nsw 16-Apr-2019
Pomegranate Tree
Need to net to keep the lorikeets from eating the crop. Away for 12 days this for Feb and lost entire crop from 4 trees Feb | David Tyler - Terrigal, NSW 19-Feb-2014
Pomegranate Tree
I've got two growing next to a reflective colourbond fence in full afternoon sun. Everything I planted in those spots fried from the heat but the Pomegranates love it. I never spray and get huge crops. | Cyrus - Baulkham Hills, Sydney, NSW 14-Sep-2010
Pomegranate Tree
Re Sam, Sydney 23-12-08. Rogor?? Seriously bad chemical-thought it was banned, I would not eat that fruit.! | Pegi - Bonogin, QLD 13-Aug-2010
Pomegranate Tree
Apply Rogor once a fortnight if you like to see the fruit! | Sam - Sydney, NSW 23-Dec-2008
Pomegranate - Rosavaya
I find trimming the tips cause it to spread out otherwise it just grows straight up but this could be my position | Correy - Brisbane, QLD 10-Oct-2008
Pomegranate Tree
Pomegranates taste kinda like raspberries, only a little crunchier and bit more bland. | Hugh Jarse - Bumtown, ASTON 07-Oct-2008
Pomegranate Tree
sensitive to irregular irrigation,wind & the unremitting sun's heat. | Farid A. Riyami - Muscat, OMAN 01-Apr-2008
Pomegranate Tree
Goulosha Azerbeijani is in my opinion the best variety I have come across. Big, very dark red fruit, dark red arils,very juicy and sweet. | Barbara Jakuszewski - West Swan, WA 28-Dec-2007
Pomegranate - Galusha Rosavaya
Beautiful looking (pink blush) and tasting, very sweet even the pale coloured seeds. A couple of fruit got fruit fly in 2007. Better in every way than Wonderful, which has yellow not red, fruit in this climate, and deep red, but quite tart seeds. | Steve Walkden-brown - Armidale, NSW 10-Jun-2007
Pomegranante
Slow to get established in heavy soils. Responds well to pruning and regular high nitrogen feedings after flowering and fruiting are finished. Hand pollination of flowers helps cropping. Keep moist and in grow in full sun. | David White - Newcastle, NSW 04-Feb-2006

Customer Feedback
Create Your Own My Edible Backyard Page and your feedback will appear here.
---
For further information:
Pomegranate Tree discussed in Daleys Newsletter