COFFEE TREE
Botanical Name:
Coffea arabica
Description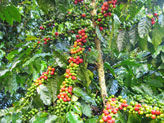 If you're one of those people who can't live without their cup of coffee in the morning then consider growing and producing your own. Easy to process and relatively problem free the Arabica thrives in the cooler climate and rich volcanic soil of Australia. In as little as three years the coffee tree will be covered with white, jasmine-scented flower clusters. The masses of green berries that follow mature to a beautiful cherry-red making this an inspirational and decorative addition to any garden. Ideal as an indoor, ornamental or hedging plant.
or 4 interest-free payments with
LEARN MORE

Planting Guide
Plant Information or Specifications
Max Height (when in the ground with good conditions)
2-5m
Can it Handle Frosts?
Likes Temps above 5deg
Amount of leaves in Winter?
All Leaves (Evergreen)
Fruiting/Harvest Months
July, August, September, October
Customer Comments on Coffee Tree
Tree Information on growing, planting, pruning, maintenance, ripening, taste, pick or bonsai tips. But mainly how to grow a Coffee Tree Share Your Review & Advice or ask questions on our Forum
Coffee - Gold
Took a few years to get fruit but not looking back now. So delicious once roasted. Many hours involved to get yourself less than a kilo tho!! | Mark M - Shellharbour, NSW 09-Sep-2018
Coffee arabica
Arabica grows well at Picton, has provided berries for the past five years. | Virginia - Picton, NSW 10-Feb-2015
Coffee Tree
I am not a big fan of the roasted coffee seed beverage. However the fresh coffee berries of some varieties tastes like sweet corn syrup, and have high levels of polyphenol antioxidants. Try the fresh berries too! | Jonathan - Black Mountain-cooroy, QLD 05-Mar-2011
Coffee Tree
This week´s SMH Good Living cover story about a tree that fruited in a Woolloomooloo community garden. Expert Toby Smith, of Tobyś Estate, processed the beans and declared ¨not bad for coffee at sea level¨. What are you waiting for :) | Diane - Seven Hills, NSW 23-Apr-2010
Coffee Tree
If planting in large pot coconut core can be mixed in a quality soil mix and guano fertilizer(bat poo) for flower/fruit productionmine is 3 years old in large pot and about 10foot tall and about 4 foot in width produced over 4 kilos of coffee last year. | Murray Evans - New Lambton Hts, 19-Dec-2009
Coffee Tree
I made a round of coffee for the whole family this year from my mature tree, coffee turned out really nice, but lots of work, I will never quiery the price of fresh coffee again | David O'bryan - Mansfield, QLD 18-Oct-2008
Coffee Tree
They are very sensitive to wind. Make sure you keep them in a sunny spot but make sure you choose a few hardy trees as a wind breaks or choose a protected position. | Correy - Brisbane, QLD 13-Apr-2008
Coffee - Condong Range
Make sure you plant a wind break first, we learned the hard way, last year we lost several thousand trees and many more were defoliated when we had frosty winds last winter. | Mt Mee Coffee - Mt Mee, QLD 16-Jan-2008

Customer Feedback
Create Your Own My Edible Backyard Page and your feedback will appear here.
---
Weed Warning: The Coffee Tree is a highly attractive small tree very well suited to the subtropical and tropical regions. The layer of seedlings underneath any coffee tree is a clear indication of its germination potential and the bright red sweet coffee berries are a delight for the birds. The bulging coffee industry in Northern NSW has caused some alarm about the potential for this fruit to be a damaging weed in the future. Should you seek to grow your own coffee, we recommend netting the tree and removing the tree is you cease to harvest the berries.
For Further Information: