Popularity: 2
Acacia floribunda - Gossamer wattle
A small attractive tree with deep yellow spikes of flowers. Excellent fill-in between slower growing windbreaks. Upright, compact growth with slightly weeping branches.
---
Popularity: 1
Acmena smithii - Creek Lilly Pilly
Attractive small tree has the ability to survive in a wide range of habitats. The small white fluffy blossum are born in early summer with mass fruitings occurring in autumn every few years. Most hardy frost tolerant lilly pilly
---
Popularity: 1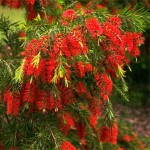 This callistemon is a very valuable tree for landscaping, as a screen plant, in erosion control or as a specimen or street tree. Bright scarlet red flowers appear in late spring and autumn and smaller numbers of flowers all year.
---
Popularity: 1
A strong growing species, native of wet sites. Well suited to use as a windbreak of as a shelter tree. Drought and frost resistant when established. Conical or rounded tree.
---