Daleys Fruit Tree Nursery
Testimonials
Shop
News
Specials
Catalogue
Contact
Forum
Blog
My Account
My Edibles
Fruit Trees > Subtropical Fruit Trees > Feijoa Tree

FEIJOA TREE, Acca sellowiana

Sometimes called the pineapple guava the feijoa, although in the same family is not a guava. Becoming increasingly popular as a commercial crop, the fruit has the taste and

aroma of strawberry, pineapple, lemon, passionfruit and guava. The tiny edible seeds are embedded in a jellylike center. The spectacular purple, pink and white flowers have sweet delicious petals that make a superb ingredient in sweets and drinks.
Trees are very attractive and can be planted to form beautiful flowering and fruiting hedges, screens or windbreaks. They espalier well and can be trained as a small standard tree or a multi-trunked specimen. They are well suited to pot culture and even seedling trees will produce flowers and fruits after as little as three years.
A very ornamental small bushy tree bearing egg shaped green skinned fruit that have a pleasant flavour. The scarlet flowers in spring are very showy and are sweet and edible.
---
Medium to large, oval fruit. Flavour very pleasant, quality excellent. Ripens mid to late-season. The tree is upright, spreading, tall, vigorous and productive. Feijoa is also referred to as pineapple guava, which are very ornamental with attractive red flowers in spring.
Comments (7)NEW | 165mm pot | $27.00 AU |

|

---
This is a self fertile cultivar from New Zealand. It a small productive, vigorous tree growing to about 2.5m making it ideal for smaller back yards. Flesh is smooth and of good flavour, fruits are early to ripen. Performs well in cooler areas.
165mm pot | $27.00 AU | In Production |

---
A large, round to oval fruit with a slightly wrinkled thick skin. Very good flavour and quality. Self-fertile but bears larger fruit with cross-pollination.
Comments (4)NEW | 165mm pot | $27.00 AU | In Production |

---
A large, pear shaped fruit with sweet pulp that doesnt darken after being cut. Excellent quality fruit. Self-fertile but bears heavily if cross pollinated.
Comments (2)NEW | 165mm pot | $27.00 AU | In Production |

---
Australian selection from Victoria, excellent size up to 200gm. Very pleasant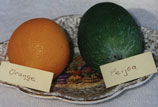 non-gritty flavour. Has proven to be a good commercial variety. Feijoas are highly ornamental with beautiful red flowers followed by delicious autumn fruit.
Comments (8)NEW | 165mm pot | $27.00 AU | In Production |

---
Large Oval - A sweet fruit and as the name suggests of oval shape and good size. Good quality. Self-fertile but will produce heavier crops when cross-pollinated.
Comments (3)NEW | 165mm pot | $27.00 AU | In Production |

---
Feijoa - Triumph
Bears short oval plump fruit with a unique sharp flavour. Good flesh to seed ratio. Bears heavily if crossed with Mammoth.
Comments (1)NEW | 165mm pot | $27.00 AU | Seeking Propagation Material |

---
| | | | | |
| --- | --- | --- | --- | --- |
| Height | Frost tol. | Pollination req'd | Evergreen/Deciduous | Harvest period |
| 5 | Medium | Beneficial | Evergreen | March - April |
---
Tips on Feijoa Tree BETA
We welcome your Tips on Feijoa Tree. Share Your Tip.
Feijoa Tree
Easy grown but has issues with Fruit Flies so need care to collect all dropped fruit and use fruit fly baits or trap. | Ross Duncan - Yandina, QLD 06-Apr-2008
Feijoa Tree
To have the fruit all year round: Scoop out pulp and mix in blender with half the amount of sugar as pulp and freeze in air tight containers. Lasts for years. Bon apetit | Peter Huber - Lower Wilmot, TAS 13-Oct-2008
Feijoa Tree
Fruit fly loves Feijoa, so treat accordingly. Makes lovely jam too. Easily grown, very attractive bush. | Paola - Berry , NSW 20-Nov-2008
Feijoa Tree
When we lived in Auckland we had a feijoa hedge and masses of fruit. We used to make feijoa wine. It is to die for but quite potent, so watch out. | Susan Omera - Gold Coast, QLD 15-Feb-2009
Feijoa Tree
Feijoas are excellent preserved. Make up a sugar syrup like standard preserving and mmm yummo. Makes the flavour of the feijoa stronger and delicious. | Steph - , 10-Dec-2009
Feijoa Tree
Always get a ladder and pick them before they fall.they will taste better when they dont fall to the ground. | William Gregor Murton - Christchurch, NZ 01-Mar-2010
Feijoa Tree
The Fijoa tree is NOT a native of New Zealand but a native of South America. | Lea Moises - Central Coast, NSW 11-Jan-2011
Feijoa Tree
Growing a pineapple feijoa in a pot for 2 yrs with no fruit this year I fed it with magnesium sulfate had lots of flowers & at present have about 10 fruit hanging on can't wait to try some! | Luba Godden - Salisbury Downs, S.A 26-Feb-2011
Feijoa Tree
If growning in South Australia improve your soil you intend to grow it in as this helps to get good root grown hence healthier plant, give an annual feed of fertiliser,keep up the water over summer and you will enjoy a good crop in late March to mid April | Chris Parsons - Flagstaff Hill, S.A 19-Apr-2011
Feijoa Tree
Is it esential to have more than one fejoa tree for pollination. Mine flowers profusely every year, but no fruits. | Reny - Joy, VIC 23-Jan-2012
Feijoa Tree
I have plenty of fruit with only one Feijoa tree and none nearby, so I'm not sure about the comment of needing more than one for pollination. | Tom Flanagan - Lismore, NSW 10-Feb-2013
---
Video: Feijoa Tree or Pineapple Guava Tree - Edible Hedge
They are delicious the flowers and you can eat the pedals they taste like strawberry and are very sweet. Great for salads or fruit salad, Beautiful looking plant which we grow in our exclusion orchard making us very spoilt here at Daleys Fruit Tree Nursery. If you have them in your home garden you will need to net them. Large Egg shaped fruits with sour flavour. New Zealanders are very accustom to them. We think it is great for an edible hedge tree./p>
For Further Information:
California Rare Fruit Growers
Growing Fruit in Warm Climates
---
Updated: 1st of November, 2013 at 4:41pm © Disclaimer/Privacy/Copyright