Daleys Fruit Tree Nursery
Testimonials
Shop
News
Specials
Catalogue
Contact
Forum
Blog
My Account
My Edibles
Fruit Trees > Subtropical Fruit Trees > Guava Tree

GUAVA TREE, Psidium sp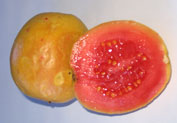 The Guava Tree is a sweet, fragrant tropical fruit ranges in size from a small egg size to that of a medium apple. To eat raw, guavas should be very ripe. They make excellent jams, preserves and sauces. Guava trees are very attractive with blotchy patched bark in greens, browns and creams. They have pretty fluffy flowers and are ornamental whether in fruit or flower. Guavas are ideal for use as fruiting hedges, landscaping trees and as ornamental potted specimen trees where they will be happy to produce masses of fruit. The strawberry guava is more suited to smaller gardens because of its compact growing habit.
Medium round fruit 50mm diameter. Skin light: yellow, slightly blushed with red. Flesh creamy white, thick, very sweet, fine-textured, excellent for dessert. Seed cavity small with relatively soft seeds. Tree upright.
---
Guava - Thai White
Large greenish skinned Asian type with white flesh and few seeds. Mild flavour and very popular in Asian markets. Easy to grow in frost free climates, and can be a weed in some regions.
---
White fleshed guava with exceptional flavour. Pear shaped large size. Trees are ornamental and can be pruned to size making them a versatile addition to small backyards.
---
This is the mildest and probably the sweetest guava of all. Fruits are 3cm in diameter yellow skinned with a sweet, aromatic, creamy flesh and numerous small seeds. Begins bearing when less than 1 meter high. Prolific bearer.
---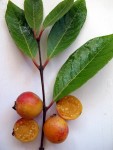 Pear-shaped fruit, with yellow skin, thick, pale-yellowish flesh surrounding the white central pulp, excellant strawberry-like flavor. It contains numerous small, hard seeds and is quite firm even when fully ripe.
Comments (1)NEW | Mega Tube | $12.90 AU |

|

---
Guava Hawaiian - Pink Supreme
This grafted variety is one of the largest of the guavas and has a high juice content and fruit to seed ratio. Flavour is excellent and delicous eaten fresh. Bears heavily after one year.
Comments (8)NEW | 165mm pot | $27.00 AU | In Production |

---
A seedling of the Hawain Supreme commercial variety. Fruit is large, yellow skinned and pink fleshed fruit. Very hardy prolific cropper. Can be eaten fresh or juiced. Can be pruned to keep compact.
Comments (9)NEW | Mega Tube | $9.90 AU | In Production |

---
This guava, native to Brazil, is a hardy shrub or small tree. It has a smooth trunk and dark green, shiny, egg-shaped aromatic leaves. Strawberry guava flowers are white with numerous stamens and the edible red fruits are about the size of a golf ball. The flesh is sweet and strawberry flavoured. Frost hardy.
Comments (24)NEW | Mega Tube | $12.90 AU | In Production |

---
Para Guava
The acidic fruits of the para guava are delicious when made into drinks and desserts although they are too sour to be eaten out of hand for most of us. They are a medium sized fruit with translucent white-yellow flesh. Prefers a warm sub tropical location with high rainfall.
Mega Tube | $9.75 AU | Seeking Propagation Material |

---
| | | | | |
| --- | --- | --- | --- | --- |
| Height | Frost tol. | Pollination req'd | Evergreen/Deciduous | Harvest period |
| 5 | Medium | No | Evergreen | January - June |
---
Tips on Guava Tree BETA
We welcome your Tips on Guava Tree. Share Your Tip.
Guava Hawaiin
Only 11 Months to fruit from first planting out | Rolf - Bankstown, NSW 16-Mar-2006
Guava Tree
The chewed on leaves are a good tonic for sufferers of golden staphloccii bugs | Daniel Martin Turl - Gowrie, A.C.T 15-Jul-2008
Guava Tree
I have a 5 year-old guava tree. It produces plenty of flowers but no fruit. Applied soluble potassium sulphate with no improvement. The tree and leaves are healthy and the tree is 2.5 m tall. What is the problem? Many thanks, Erika | Erika Haber - Salamander Bay-port Stephens, NSW 13-Nov-2008
Guava Tree
HELP !!! I have a full grown guava tree that bears abundance of fruit but are not edible. Looks like the fruit fly takes over and the fruit are full of little worms/maggot-like... What do I do to prevent this foreign invasion ? | Jane Lewis - Seven Hills , NSW 21-Dec-2008
Guava Tree
To JANE LEWIS-SEVEN HILLS : Put all fruit-fly infested fruit into a black plastic bag and put in the sun for a week or two.Or put in a container of water for a month or two or more.Read a library book by Louis Glowinski ' ...Fruit Growing in Australia'. | Rolflora - Ovahere, NSW 19-Jan-2009
Guava Tree
TO JANE LEWIS :It might also be a seedling guava and so might never have tasty fruit.Buy a daley guava.What is the colour and size of the fruit?Pick some early and ripen them in the kitchen.Post your question on the daley's forum. | Rolflora - Ovahere, NSW 19-Jan-2009
Guava Tree
I have a Guava Tree which about a year oldIts growth is progressing well However since about 10 days now the leaves are turning brown with rust coloured patches how do I stop this leaf problem? | Ronnie Bhabha - Kingsgrove, NSW 11-Apr-2009
Guava Tree
Have yellow + red strawbs - yummy. Indian (so-so) and hawiaain (v.good) Hawiaain dropped all its fruit b4 ripe whats wrong? | A.sunley - Geraldton, WA 10-May-2009
Guava Tree
Fruit fly: an orchard u should hangover a 5-7 plastic boxes with chemical in it at different locations...if u have further problem .. contact at asad1933@gmail.com, thx | Muhammad Asad Abbas - University Of Agriculture, Pakistan, PAK 31-May-2011
Guava - Thai White
Iam at war with fruit moths,helopeltis,flying foxes and amblepeltas for my Hawaiian,thai white,yellow cherry and hairy leafed pineapple guavas.Only bagging protects the fruit. | Mike Trenerry - Cairns, QLD 04-Jun-2011
Guava Tree
India,s No-1 Fruit & Other Plants Supplier 12 Month All Type Plants/Saplings and seeds Available in NAFEES NURSERY www.nafeesnursery.com | Nasfees Nursery & Exporter - Lucknow, U.P 15-Oct-2012
Guava Tree
Boil some leaves in water and add to a bath, the leaves have healing properties for psoriasis sufferers. My 3yr old sons skin clears up after a bath and looks normal, leaves Known to have potent anti-bacterial, anti-oxidant and anti-inflammatory propertie | Avegail - West Pymble, 2073 21-Apr-2013
---
Weed warning: The strawberry guava is a hardy small tree that prolifically bears small dark red guavas that self seed readily and are highly desired by birds and humans. They are hardy in full sun and will also grow quickly under the full canopy of a rainforest. They can be difficult to remove once established. Best grown under netting or covered with a mosquito net when in fruit. Some of the other guava species can also be found self seeded on the roadside/fencelines etc. and are become a concern in Nth NSW / Sth Qld coastal regions.
---
Updated: 11th of April, 2012 at 1:12pm © Disclaimer/Privacy/Copyright