Daleys Fruit Tree Nursery
Testimonials
Shop
News
Specials
Catalogue
Contact
Forum
Blog
My Account
My Edibles
Fruit Trees > Tropical Fruit Trees > Paw Paw

PAW PAW, Carica papaya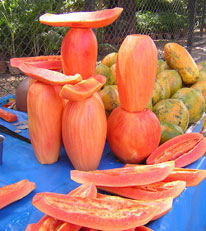 Watch Video NEW Also known as the papaya these fast growing trees can commence bearing within 12 months of planting. Paw paws are often cultivated as garden trees due to their attractive shape, manageable size and large tropical looking foliage as well as the delicious fruits they produce. Native to southern Mexico and Central America, paw paws are now commonly found in tropical and sub tropical climates where they are very easy to grow and are highly productive trees for about 5-6 years. The three types of Paw paw can all be distinguished by their flowers. If you are growing the male and female paw paws one male will happily fertilize seven females or more, bees are the main pollinator so they will need to be able to fly between trees.
Fruits take 60-120 days to mature and will need a long warm summer to fully ripen. In warm climates fruits will ripen all year round and healthy trees can produce 30kg of fruit a season.
Bisexual large orange - red fleshed Papaya with very sweet juicy flesh. Heavy cropper of elongated fruit. Seedlings have been selected from high quality self pollinated selection, so expect at least 80% bisexual plants. Performs best in a sheltered warm location.
---
Oak Leaved Papaya
Bears small bright orange fruit 50mm long, with a sweet smell and juicy, sweetish pulp. Very cool hardy but does not like wet feet in winter.
Mega Tube | $12.90 AU | In Production |

---
A cutting grown Paw Paw is dwarfed in size and the fruit is produced low to the ground. Also suitable for growing in pots. It is possible to have fruit within 4 months rather then taking 18 months from a seedling. (Learn More) Watch Video NEW
Comments (1)NEW | 175mm Long pot | $29.00 AU | In Production |

---
Papayuelo
Attractive tall branching plant with purple leaves. Bears goose-egg size purple fruits. The flesh inside is eaten like passionfruit. Plants are either male or female.
Comments (8)NEW | Mega Tube | $14.90 AU | Seeking Propagation Material |

---
Pawpaw - Yellow YD1B Hybrid
The most widely grown of all the hybrids in Australia, fruit is oblong, is very clean, flesh is firm, and is a medium yielding tree. Plant in groups to allow for any males.
Comments (3)NEW | Forestry Tube | $3.90 AU | Seeking Propagation Material |

---
Pawpaw - Hawain Bisexual Yellow
Heavy cropping papaya with small to medium sized sweet fruit. This Papaya selection is a true bisexual, consistently producing uniform bisexual plants. Grown on the Gold Coast from fruit brought back from Guam after 2nd World War by Jim Curren
Comments (3)NEW | Mega Tube | $9.90 AU | Seeking Propagation Material |

---
Pawpaw - Red RD6 Hybrid
This is a very fast growing red fleshed hybrid and will start picking 9 months after planting out as seedlings. The fruit is roundish with very clean skin all year and deep red flesh with a mild musk flavour. 2 plants per pot. For more info go to: http://www.papayaseed.com.au/redorganicpapayaseed.htm
Comments (5)NEW | Mega Tube | $9.90 AU | Seeking Propagation Material |

---
Paw Paw - Sunrise Solo
Sunrise Solo is a pink fleshed bisexual inbreed. It is the most commonly grown papaya worldwide. The fruit is small, pear shaped with a very sweet musk flavour.
Comments (4)NEW | Mega Tube | $9.75 AU | Seeking Propagation Material |

---
Paw Paw - RB3 Bisexual Red
A bisexual Paw Paw bred by Garry Grant. Has large elongated fruit up to 1kg with red / orange flesh. Ideal back yard Paw Paw fruiting within 18mths. Bisexual paw paws are generally self pollinating, occassional females can be expected that will need pollinating.
Comments (9)NEW | Mega Tube | $9.95 AU | Seeking Propagation Material |

---
Col de Monte Papaya
It is a "dwarf" papaya, most commonly found in cultivation in Ecuador between 600–1,700m elevation bearing small yellow fruits. There, the people like the fruit so much that they protect and nurture even wild specimens. The smooth, hard-skinned fruit has 5 faint ridges and a orange skin. Taste is highly variable. Some of its fruits are quite sweet with an attractive taste somewhat like apples. Others are astringent and barely edible, even cooked. Some of these small, fragrant fruits are eaten raw—usually mixed with other fruits. Cooked with lemon and sugar they have been likened to stewed apricots. Their firmness makes them suitable for drying and candying, and they freeze well. The young seedlings and mature leaves are cooked as greens (hence the common name "col de monte," which, translated, means "mountain cabbage"). The plant grows vigorously, but reaches only 1–3m in height. It is generally monoecious, commonly having male and female flowers together on the same inflorescence.
Comments (2)NEW | Mega Tube | $12.90 AU | Seeking Propagation Material |

---
| | | | | |
| --- | --- | --- | --- | --- |
| Height | Frost tol. | Pollination req'd | Evergreen/Deciduous | Harvest period |
| 2-5 | Very Sensitive | Beneficial | Evergreen | most of year |
---
Tips on Paw Paw BETA
We welcome your Tips on Paw Paw. Share Your Tip.
Paw Paw
Mine is a single red bisexual variety. Grown against an Eastern facing wall, it weathers Winters quite well. Prolific bearer, likes good water and heavy feeding. Lopping produces multi-stems. Green fruit can be eaten as a vegetable. Very sweet when ripe. | David White - Newcastle, NSW 03-Jun-2006
Paw Paw
I believe Pawpaw is a little grown North American tree with fruit somewhat like the Annonas. The kinds you list here seem to be papayas, which are not synonymous with the term pawpaw. However, a real pawpaw can grow in temperate climates also! | Matt Morgan - Dallas, TEXAS 12-May-2008
Pawpaw - Red RD2 Hybrid
I am growing the Bi Sexual Red Pawpaw in my Aquaponics system. It is growing amazingly well setting fruit just 10 weeks from seedling. | Murray Hallam - North Maclean, QLD 05-Jan-2009
Paw Paw
The name Paw paw also refers to Asimina triloba. I was disappointed to find this article about papayas under the paw paw name. Essentially I agree with Mr. Morgan's view. | E. Griffith - Berkeley, CA 27-Jul-2009
Paw Paw
Here in Oz we call them paw paws! Just tasted my first homegrown bisexual paw paw (papaya) and was amazed how much better tasting it was compared to the insipid paw paws that are common in supermarkets. Very sweet with a wonderful aftertaste. | Happyearth - Wollongong, NSW 17-Oct-2009
Paw Paw
Grow from seeds, planted densely in a garden bed. This ensures a mix of male, female and bisexual plants. Let them grow into each other as a natural form of grafting. | Carl Ramirez - Kensington, NSW 15-Feb-2011
Paw Paw - Sunrise Solo
I 1st tased this selection in Maurice. Ther it is harvested when yellow,sold that day and consumed with 2 days. DELICIOUS! Fruits that cost as much as $9.00/kg in Supermarkets have bee insipid and slow to ripen, where is product `auditing`? | Mark Baker - Narrawallee, NSW 18-Nov-2011
---
For Further Information:
FAQ about pest and problems in papaya
---
Updated: 15th of January, 2013 at 12:41pm © Disclaimer/Privacy/Copyright