MULBERRY TREE
Botanical Name:
Morus spp.
Description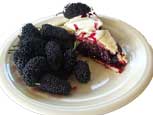 Mulberry Trees have delicious juicy crimson black, red or white fruit that is rarely seen on the supermarket shelves hence the need to grow it yourself. For an easy to grow fruit tree that will reward you with bountiful crops of fresh fruit in spring, mulberries are a must in the backyard. Mulberry Tree Videos
or 4 interest-free payments with
LEARN MORE

Planting Guide
Plant Information or Specifications
Max Height (when in the ground with good conditions)
2-5m
Amount of leaves in Winter?
No Leaves (Deciduous)
Fruiting/Harvest Months
October, November, December,
Customer Comments on Mulberry Tree
Tree Information on growing, planting, pruning, maintenance, ripening, taste, pick or bonsai tips. But mainly how to grow a Mulberry Tree Share Your Review & Advice or ask questions on our Forum
Mulberry Tree
silk worms love the leaves | Clive Seiffert - Delahey, 3037 15-Apr-2020
Mulberry Tree
If you live in Adelaide or colder regions of Australia, dont buy the Dwarf Black Mulberry. Because the fruit sets to early and doesn't ripen properly. You would be better of with a Black English Mulberry or the Hicks Fancy variety. | Luke Marinoff - Highbury, SA 07-Jan-2019
Mulberry Tree
Mulberries make great pies for eating and looking at. | Helena Wong - Balmoral Village, NSW 27-Mar-2016
Mulberry Tree
Weeping mulberry i have found to be the best and sweetest tasting mulberry ever .i have the two dwarfs but the taste of the weeping is unbelievable.. | Spero Kartanos - Manly West, QLD 23-Jan-2016
Mulberry Tree
Just remember the green fruit gets the stains out!. (That way you never seem to be the culprit for eating all the mulberries). | Magdalene Austernin - Lawson, NSW 28-Sep-2013
Mulberry Tree
2nd yr in-ground white shahoot in melbourne/Pascoe Vale South, well mulched over pst yr and we now enjoy about 200 fruit, sugar sweet and aromatic fruit for its size - beats paying $10 for 10 dried pieces from Iran! V V happy! | Foto - Pascoe Vale South, VIC 11-Nov-2010
Mulberry - Black English
Mine i add chicken waste n trees ashes. | Rosli Abu Bakar - Brunei Darussalam, BRUNE 16-Jul-2010
Mulberry - White
We have a white shahtoot growing 'espalier' style in the narrow and otherwise useless space between our house and the neighbours. Stunningly good producer of incredibly sweet fruit. | Melanie - Newcastle, NSW 14-Oct-2008
Mulberry Tree
I tried the White mulburry.Its doing well. So are my chooks which dart around keeping the ground clean of fallen fruit. Guinea pigs go ape over fruit and leaves. | Piggy Pal - Warwick, QLD 13-Sep-2008
Mulberry Tree
I live on a rocky ridge with sand and rocks for soil - my mulberries have grown and survived severe drought | Helena Wong - Balmoral Village, NSW 19-Aug-2008
Mulberry Tree
Late frosts can severely impact on yield. Watch for satin bowerbirds which will strip a tree of fruit. Good as a windbreak - fast and hardy | Reville - Tabulam, NSW 03-Jun-2008
Mulberry Tree
It a must have tree if you have kids and room. Plant it far away (so the kids feel like it's an adventure). Yes they will get dirty but it's the memories they will have that will be priceless. Make sure you take a photo when their faces are purple. | M - Shailer Park, QLD 17-May-2008
Mulberry Tree
Great tree to have in a community garden. The deciduous habbit muches the garden and the bat droppings are really high in nitrogen | Penny Hoswell - Wollongong, NSW 14-Dec-2007

Customer Feedback
Create Your Own My Edible Backyard Page and your feedback will appear here.
---
Mulberries make an ideal choice for any garden because:
The trees are easily managed,
They make great ornamental shade trees with their huge heart shaped leaves
As deciduous trees they get new leaves in early spring but allow the sun to shine through during winter.
The fruit forms from late spring through to early summer.
Mulberries Love:
Deep, fertile soil.
To be well watered, especially through summer.
Protection from coastal winds.
Mulberry Tree Video White Shahtoot
Mulberry Tree Video Red Shahtoot
Taste Evaluation: Dwarf Red Shahtoot Mulberry Tree
For Further Information:
Shahtoot - King White Mulberry - Blog article showing the benefits of the Mulberry.
http://www.crfg.org/pubs/ff/mulberry.html