Daleys Fruit Tree Nursery
Testimonials
Shop
News
Specials
Catalogue
Contact
Forum
Blog
My Account
My Edibles
Temperate Fruit Trees > Mulberry Tree > Dwarf Mulberry - Black

DWARF MULBERRY - BLACK, Morus nigra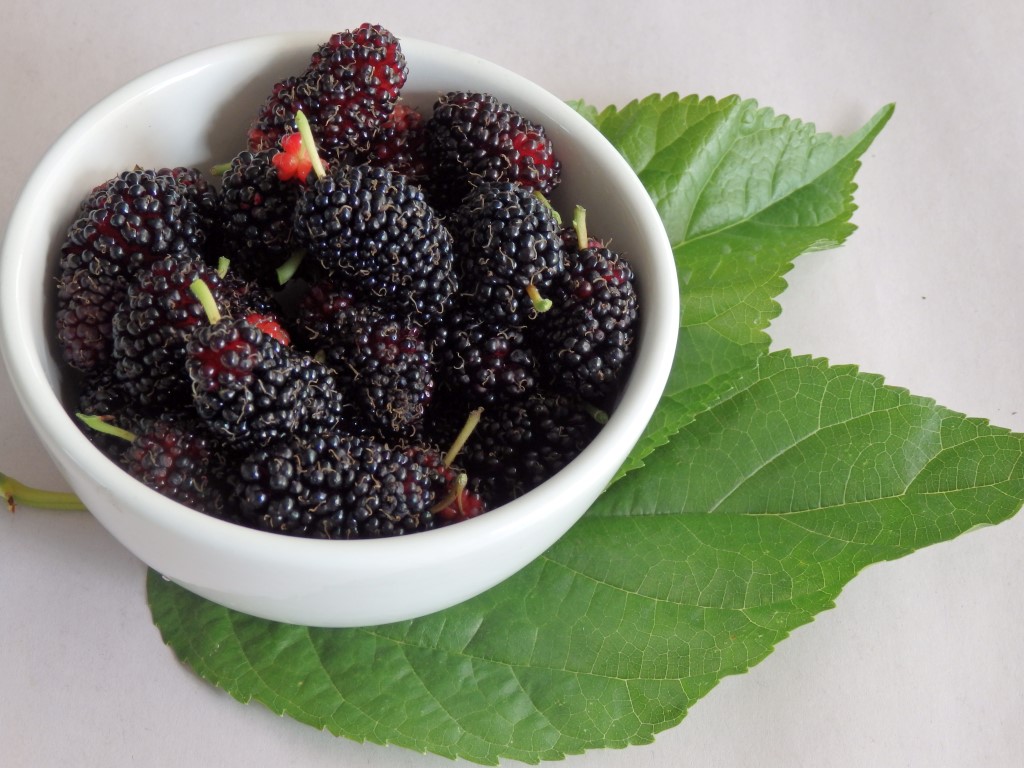 This mulberry has a very low chill factor making it ideal for our subtropical climate. Pruning after fruiting allows it to be kept under 3mtrs, and also encourages multiply cropping throughout the summer. It is best to pick the fruit when ripe, as it doesn't ripen further off the tree. A benefit of a mulberry tree is that the fruit ripens over an extended period of time unlike other fruit that often ripens all at once.
The fruits of the black mulberry, considered the tastiest and most versatile of the mulberries are large and juicy with a good balance of sweetness and tartness. The fruit of the dwarf black mulberry is the same as that on the large black mulberry that we all know and love. The fruit is large, resembling a blackberry, sweet and luscious. When not devoured fresh it is ideal to use in jams, wines and mulberry pies. (Dwarf Mulberry Tree Video )
165mm pot | $29.00 AU | In Production |

---
| | | | | |
| --- | --- | --- | --- | --- |
| Height | Frost tol. | Pollination req'd | Evergreen/Deciduous | Harvest period |
| 2-4 | Medium | No | Deciduous | September - February |
---
Tips on Dwarf Mulberry - Black BETA
We welcome your Tips on Dwarf Mulberry - Black. Share Your Tip.
Mulberry - Dwarf Black
My Dwarf Black Mulberry has been in the ground for approximately 6 months. It is about 1.5 m high and has already fruited! I have about 100 fruit. I cannot wait until this tree gets into full production! | Tammy Mutimer - Bracken Ridge, QLD 18-Sep-2009
Mulberry - Dwarf Black
My Dwarf Black Mulberry has been in the ground for about 9 months. It's about 2m tall and has been fruiting throughout the summer and now into the autumn. & has grown phenominally well. Slow to grow through winter last year, but has taken off since spring | Tom Eastlake - Young, NSW 14-Apr-2010
Mulberry - Dwarf Black
Dwarf black mulberry grown in pot fruited 1st year about to prune(early Nov)will see what happens and keep you informed. | Peter Murphy - North Tmworth, NSW 10-Nov-2010
Mulberry - Dwarf Black
Fruited after Nov. pruning Delicous not a big crop al finished by Feb. fertilized with a handfull of chook poo pelets no pests yet! | Peter Murphy - North Tamworth, NSW 04-Mar-2011
Mulberry - Dwarf Black
Have had my dwary mulberry since spring 2007 and it is now 4m x 3m - need to prune at next opportunity. Loads of fruit twice a year (prune in between). My kids 4 and 2 love them and pull branches down to get to fruit when Im not looking! | Donna Mitchell - Rathmines, NSW 09-Jul-2011
---
Dwarf Mulberry Tree Video
---
Updated: 13th of September, 2013 at 10:55am © Disclaimer/Privacy/Copyright