Daleys Fruit Tree Nursery
Testimonials
Shop
News
Specials
Catalogue
Contact
Forum
Blog
My Account
My Edibles
Fruit Trees > Tropical Fruit Trees > Acerola Cherry - Florida Sweet

ACEROLA CHERRY - FLORIDA SWEET, Malpighia emarginata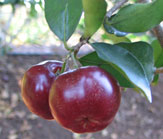 This bright red cherry-like fruit has varying tastes during different stages in maturity. When fully ripe the fruit is juicy and aromatic with its acid content giving it a sweet acid apple-like flavour. The tree can produce a number or crops each year, making for quite a long harvest season. Our selection we grow is called the acerola Florida Sweet Cherry and is a pleasant eating variety that is not too sour. The most notable feature of Acerola Cherry is its very high Vitamin C content, once grown commercially just for its Vitamin C. The acerola is well suited to pot culture where it can be kept to a smaller size, it could also be grown this way in cooler climates where it can be moved to a warmer position in the winter.
A word of warning the foliage of the plant is covered in minute, irritating stinging hairs that can produce an allergic reaction, so when pruning your trees wear a long sleeved shirt and a pair of gloves.
---
| | | | | |
| --- | --- | --- | --- | --- |
| Height | Frost tol. | Pollination req'd | Evergreen/Deciduous | Harvest period |
| 2-4 | Sensitive | No | Evergreen | Summer - Autumn |
---
Tips on Acerola Cherry - Florida Sweet BETA
We welcome your Tips on Acerola Cherry - Florida Sweet. Share Your Tip.
Acerola Cherry
Pick early ,before the birds and fruit fly then ripen inside the house, when green has turned to yellow. | Rolf - Bankstown, NSW 07-Dec-2005
Acerola Cherry
Is World Champion in Vitamin C amounts - refer to www.nal.usda.gov... ( see below ) | Rolf - Bankstown , Sydney, NSW 22-Dec-2005
Acerola Cherry
No fruit fly problems . | R O L F - Bankstown 2200, NSW 05-Jan-2006
Acerola Cherry
Does very well espaliered. Full sun or near to. Water well and mulch heavily. Fruiting much improved by a good dose of potassium late winter and frequent additions of seasol. | David White - Newcastle, NSW 30-Jan-2006
Acerola Cherry
Vitamin C content : http://www.nal.usda.gov/fnic/foodcomp/search .Has twice as much Vitamin C when unripe | Rolf - Bankstown, NSW 19-Mar-2006
Acerola Cherry
It has lived and thrived through the hottest summer with regular watering. I would recommend this for Western Queensland gardeners. As with any fruit it's hard to beat the birds. | Anna Watts - Quilpie, QLD 22-Mar-2006
Acerola Cherry
Acerola combined with orange makes a great juice. And its jam tastes fantastic. | Flora Cauchi - Kellyville, NSW 18-Dec-2006
Acerola Cherry - Florida Sweet
We live 1km from ocean in a horrifically hot and windy climate - ours doing really well - not many flowers or fruit though (>2yrs old and 2m high) wind has broken a large branch - but it's still happy (gets irrigated) | Amanda Sunley - Geraldton, WA 10-May-2009
Acerola Cherry - Florida Sweet
Very easy to grow, looks after itself. Fruits most of the year, with just 2-3 months break over winter. Has enough fruit for our family of three, our dog and fruit bats. We pruned it very heavily last winter and now it started to flower again. | Dorota - Brisbane, QLD 16-Nov-2011
---
For further information:
Warm Climate Fruits
California Rare Fruit Growers
Trade Winds Fruit
---
Updated: 4th of October, 2013 at 7:30am © Disclaimer/Privacy/Copyright