HEDGE PLANTS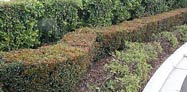 The plants that are listed below are trees and shrubs that respond better to clipping into hedges than others. These tough hedging plants are great used for protection, privacy screens and aesthetic value. A-Z list below
Size and Growth
If you wish to create a hedge which is really dense and bushy from the ground upwards it is advisable to plant young, small plants. Many people look at the small seedlings in tubes and imagine it will be years before they will achieve anything which looks like a 'hedge' however, if larger plants are chosen the result can often be that the hedge is rather gappy at the base. Also larger plants are more expensive and are more likely to fail than small ones.
Position
All plants listed will grow in a sunny or partially shady position with any with special requirements being stated on the label.
Soil
Unless otherwise stated the plants listed will all grow in any reasonable well-drained soil.
Planting and Pruning requirements
When planting and caring for a new hedge it is very important to follow the pruning and planting instructions that will come with the plants. Some people hesitate to cut their hedging plants back, or forget to do it frequently enough and with many varieties this will result in a hedge which is not dense at the base.
---
---
---
---
---
---
---
---
---
---
---
---
Eastern Cape Myrtle
---
---
---
---
---
Conifer Thuja orientalis Blue Cone
---
---
---
---
---
Syzgium paniculata - Magenta Cherry
---
---
---
---
---
---
---
---
Sweet Pea Bush
---
---
Acmena smithii - Dwarf Form
---
Alyxia ruscifolia - Prickly alyxia
---
Brunsfelsia - Dwarf yesterday, today, tomorrow
---
Conifer Cupressocyparis Leylandii GOLD RIDER
---
Conifer Cupressocyparis leylandii GOLDEN NUGGET
---
Cordyline terminalis
---
---
Duranta repens - Golden
---
---
---
---
---
---
---
Loratapetulum Pink - Pink Fringe flower
---
Mondo Grass
---
Plumbago auriculata - Plumbago
---
Customer Comments on Hedge Plants
Tree Information on growing, planting, pruning, maintenance, ripening, taste, pick or bonsai tips. But mainly how to grow a Hedge Plants Share Your Advice or ask questions on our Forum
Hedge Plants
Read the book called 'Grow what where,2750plants'from the local library. | Rolf - Bankstown, NSW 13-Dec-2005
Hedge Plants
Casuarina glauca is a good hedge plant. | Rolf - Bankstown, NSW 20-Dec-2005
Hedge Plants
I find for a medium hedge (to 3 metres) that you can't beat "Syzigium australe - "Select Form). The plant is not prone to psyllids like a lot of Lilly Pillies and the birds love the bright red fruits, plus the beautifil feathery white flowers are a joy. | Colin J Richardson - Macksville, NSW 17-Aug-2008

Customer Feedback
Create Your Own My Edible Backyard Page and your feedback will appear here.
---