January 2003
Hello, Happy New Year to you all. I hope the holiday period was filled with joyful celebrations for everyone. Some people will go to great lengths to find water in the dry times. While some of the staff here at Daleys made it to the fabulous Northern NSW beaches for respite during the holidays some of us stretched far and wide to sink ourselves into the deep blue. As promised Greg and I just can't wait any longer to share these stories with you.

Our Special Feature for the Month
Plants across the Pacific
GREG GOES TO VIETNAM

Well I have just had the most fantastic holiday to a very inspiring country namely Vietnam. It was only a 2-week visit, but it did give me an insight into what a rich culture these people have after having gone through so many adversities. The Vietnamese seem to have a real appreciation for the value of fruit in their gardens and towns. In the villages throughout the country the use of productive fruit trees as shade trees is commonplace. Jackfruit, Star Apples, Panama Berry, Longan, Indian

Almonds, Wax Jambus and Tamarinds are all common street trees. I was very fortunate to have had the opportunity to meet with Mr Doan Ai the Director of Fruit Research based in Hue. His hospitality was very generous in showing me around his province. I was particularly impressed at how much initiative the local farmers had at solving problems, to be able to transform unprodu

ctive sand lands into profitable orchards. The appreciation of sustainable farming practises is highly valued, as is evident through the recycling of all their resources. This is real Permaculture working as a profitable enterprise. I am looking forward to keeping in contact with Mr Ai and exchange ideas and plant material. The memories are very impressive, especially the warmth, humility and good humour of the local people. Anyone wanting an Asian holiday I can highly recommend a visit to this special country.
EMMA IN THE HAPPY ISLES, SOLOMON ISLANDS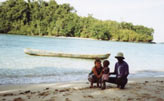 Well Greg and I have been competing for the title of the best holiday possible. Several rounds of stories still finds no end to the debate. I have just returned from the Solomon Islands, a country and culture very dear to my heart. I stepped off the plane out into the sticky sweet air filled with the familiar scent of roasting cocoa. Returning for the third time to following on from my previous involvement in the Kastom Garden Project. This local project works in many areas of Sustainable Agriculture and village based food security. The overall emphasis is to provide an opportunity for farmers across the Solomons to share their diversity of planting materials, stories and range of experiences.
I carried with me a great interest to learn more about the indigenous food crops of

the Islands, and was repeatedly fascinated by the stories of the variouscultural uses of plants. Walking through the bush 'this fruit is smashed to a pulp to mend leaky canoes….. this fruit is used to treat diabetes …..this fruit well it just tastes like the stars' I only wish I could tell you a little more about the fruits and nuts that I was lucky enough to munch on, however finding botanical names was near impossible and every village had a different local name for each fruit. Everything from the size of a cherry to a watermelon was simply called 'an apple' in Pijin English
I did develop a particular fondness for the Ngali Nut, which I believe has great potential for the warmer subtropics. I filled my backpack with a supply of roasted nuts fit to last a lifeti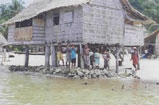 me, or at least until I return again. I visited Rareo, a tiny village on the north side of Choiseul province, where Peter and Ellen, a couple with a bottomless enthusiasm for orcharding, showed me around there cornicopia of trees. During my last visit to the Solomons I had met with Peter and had given him a Ngali nut tree that I had grown from seed in my miniture nursery Honiara, Solomon Islands. The mother tree had produced a very large nut of exceptional quality. Peter introduced me to this tree now 4 years old and towering about 20m tall.
Some of the other trees that I recognised easily included Wax Jambu's, Jackfruit, Cut nut, Pumello, Carambola, Soursop, Breadfruit, Mango, Panama Berry, Custard Apples, Sapodilla, & Cashew.
So now my belly is full of coconut and my head full of Island tunes I'm back again in the nursery to share with you all the huge range of edible trees available to us.

Our Special Trees of the Month;
From our Exotic Fruits Section -
GIANT LAU LAU - Eugenia megacarpa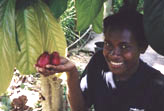 This tree is scattered everywhere across the Pacific. Very popular in PapuaNew Guinea and the Solomon Islands. The giant long glossy leaves make it a spectacular feature before you even spot the fruit. The stunning fruit is bright red and crisp apple like flavour. If you have some space in a frost free garden this tree will be a treasure. With adequate water it grows at a rapid rate reaching up to 6-7m.

WAX JAMBU - Syzygium jambolana
This very popular tree originated in the Andaman Islands. It is now planted as a street tree throughout much of Asia and is a regular feature in most Pacific Island villages. It is the perfect fruit to munch on while hiding from the sun of a hot summers day. Crisp and juicy with a light refreshing and fragrant flavour, it is difficult to saturate your craving for it once you've started. Believe me I've tried. The attractive pear shaped fruit bears in abundance. One tree even if kept small in an urban garden will provide you with more fruit than you can dare to imagine.

The bright pink slightly waxy skin makes this fruit almost too decorative to eat when featured on a fruit platter. It is a fast growing dense evergreen tree that makes a beautiful shade tree in any frost free spot. It is not too particular with its soil and fertilizer requirements. While it is at home in the humid tropics in well drained sites, it will not let you down even in the dryiest of times. It fruits throughout much of Summer and Autumn.

NONI - Morinda citrifolia

The tree is a popular Asian street tree and a common tree growing naturally under the canopy of the coconuts along most beaches in the Pacific Islands. Also known as Indian Mulberry this medium sized fruit is rather peculiar looking with its knobby yellow-green segments. The noni has a long list of scientifically documented and undocumented medicinal benefits. This odd fruit is said to cure everything from stonefish wounds to digestive upsets to far more serious disease. Medicinally the bark, leaves, roots and fruits are used to create a very potent decotion and the juice of the fruit is attracting much interest in the US amoung the health concious culture. When the fruit is ripe or overripe the skin of the fruit becomes almost translucent and the flesh turns soft to develop an unpleasant odour. The odour has led to nickname of the 'starvation fruit' due to the fact that you would have to be starving to eat it as a fresh fruit.
From our Rainforest Section-
The Blue Flax Lily:


This Australian native grows as an attractive strong grassy tuft. The foliage reaches about 75 cm and grows to about 50cm wide. The summer offers this plant sprays of star shaped blue flowers followed by edible brilliant blue-purple berries. Tolerates a wide range of soils in part shade or full sun. Excellent to add texture and contrast to an ornamental garden bed, to line walkways and use as an understory filler in a rainforest planting. This plant is looking top class at the moment and is available in tubes or 140mm pots.

The Syzygium oleosum - Blue Lilly Pilly

This glossy evergreen bushy tree will lure a multitude of birds to your garden with its fluffy flowers and deep purple fruits, also pleasurable palatable to the human belly. It will grow naturally into a well shaped compact small tree to 5-8m. It is happy in most situations wind, sun or part shade. Makes and excellent tub specimen. Available in 140 mm pots or in 2 inch tubes.
This tree is available in Forestry tubes from Daleys for just $1.95
From our Bush Food Section -
I am compelled to raise your attention to the scrumptious Bush foods that are in season right now.
Rose Apple Syzygium Jambos:

We have a spectacular Rose Apple (Syzygium Jambos) in a large pot out the front of our Retail section here at Daleys. Just last week it was laden in ripe fruit and I must confess that this week only a few dreadfully unripe fruit and the remnants of a much enjoyed feast remain. It wasn't just me, I promise!! Many of our retail customers now have a spritely Rose Apple growing in their back yard and many more customers I'm sure are prowling the streets at night to find a tree abundant with fruit. Once you have tried it you will forever be enchanted.
The fruit is slightly larger than a golf ball with a mostly yellow waxy skin that has a pinkish tinge when fully ripe. The seed sits loose inside the hollow fruit. While it may appear there isn't too much to munch on, the entire capsule is edible and ABSOLUTELY delicious. The taste is a very aromatic sweet flavour with a hint of rose petals. I think it would be a perfect combination with Indian sweets, maybe even stuffed with a coconut semolina sweet, or sliced and put into a fruit salad for a fragrant treat.
The tree itself is a royal glossy green with large leaves and a weeping habit. It can reach up to 6m but is very easily encouraged to remain small and bushy and is a very elegant tub or pot plant.
An absolute MUST. See (or should I say taste) for yourself.

Bunya Nut (Araucaria bidwillii)

I wont steal too much of this page with the tales of the Bunya Nut, but I just wanted to let you know that it's time!!! If you have a Bunya Nut in your neighbourhood, its time to get the hard hat out and go foraging for these yummy nuts. If you're still waiting patiently for your tree to start bearing there is a chance that some of your more creative grocers will have them on the shelves this year as the interest in this fabulous native food increases. If it is no-where to be found,

start hassling. You can rewind a little bit through the previous newsletters to the October edition for one of Ward Gunn's great creations, a recipe for Warm Pasta Salad with Red Bunya Nut Pesto.
Just last night I was listening to a CD 'Dreamtime Didgeridoo' when one of the songs jumped out and bit me. I looked up the track to find that it was the song for the Bunya Harvest Festival, a colourful confirmation that the Bunya nut is much to laugh and sing about.

The trees listed above and many more are available at Daleys Nursery. See our website at https://www.daleysfruit.com.au.htm and go straight to the shopping trolley to order these plants or call in and see Emma at the Nursery for more information.

Lemon Myrtle an Australian Culinary Delight
with Ward Gunn
Lemon Myrtle Backhousia citriodora a aromatic rainforest spice

Lemon Myrtle goes well with most vegetarian dishes and makes delicious flavoured sauces, desserts, syrups, biscuits and cakes. If using lemon Myrtle for the first time it is best used as a back ground flavour as the Lemon Myrtle has a pleasant lingering after taste. Often people use too much, which results in an over-whelming experience, a little goes a long way.
Being a chef I have enjoyed using Lemon Myrtle in many dishes, and there are a couple of things to consider when using Lemon Myrtle. The leaf holds its flavour in little glands filled with the essential oil, which is very volatile and can be lost easily. With a little care the flavour can be retained and enjoyed.
Using the whole fresh or dried leaf always infuse in a sauce or a wet dish, like a Thai tofu curry in the final stages of cooking. If you need to reheat the dish, do not bring to the boil or heat for a long period, if you do this will cause the flavour to evaporate. When making cakes or biscuits, use dried ground Lemon myrtle and mix into the flour and you will retain the flavour.
The essential oil is best blended with Macadamia nut oil and used is salad dressings and desserts.
If Native Foods are new to you, Lemon Myrtle is an easy choice to start with and will help you to understand how Australian foods can be used in many delicious ways. I always suggest to people start with the lemon myrtle tea or a salad dressing, this will help you to become familiar with this amazing rainforest spice.

Wards Lemon Myrtle Salad Dressing

Ingredients:

8 drops Lemon Myrtle essential oil
350 ml Macadamia nut oil
3 tsp. Whole grain mustard
150 ml Apple cider Vinegar
6 leaves Freshly chopped Basil
1 tsp. Freshly ground Tasmanian Mountain pepper
1 tsp. Fructose
Salt to taste

Method: Put all ingredients in a Jar and shake until well blended
Store in the fridge





Ward Gunn runs Bushfood cooking classes and Bushfood farm tours thought ACE Mullumbimby 02 6684 3374 and ACE North Coast Ballina 668 11463
To make all your inquiries regarding Bushfoods call 0414 356 588 or email attune@nrg.com.au

Enjoy!!

Special Notice to All Landcarers and individuals affected by the Drought.
The Commonwealth Government is inviting community groups and individuals to apply for funding for drought-related environmental works under a special $10 million Drought Recovery Round of the Australian Government Envirofund.
Projects funded may include waterways protection, erosion control or fencing to protect habitat of endangered animals and vegetation. Funding may also be available to relocate watering points to prevent stock damage to fragile riverfrontage and to control feral animals to reduce grazing pressure or protect native plant and animal life.

"Envirofund recognises that every idea and every effort- no matter what size- can make a difference. Small local projects help ensure that our unique biodiversity is protected even under severe drought conditions, and our rich resources are sustained for the next generation"
Community groups and individuals interested in applying for funding of up to $30,000 under the Drought Recovery Round should obtain a copy of the Guide to Applications by calling toll-free on 1800 065 823, or by looking on the internet at www.nht.gov.au
Applications must be received by 14 February 2003. Applications received by 30 January 2003 will get priority processing and early announcement. It is expected that the remainder of the projects to receive funding under this round will be announced late March 2003.

Next Issue
Look out for our promotion of the increased range of perennial vegies and spice plants
We will have a few hints on integrated pest management in your orchard
and share with you some new discoveries about the uses of our native rainforest trees