May 2015
The Daley News
Autumn
Autumn is our favourite time of the year at the nursery, the sky is deep blue and sunny and all our hard work over the year is visible in the quality and quantity of plants available. It is also a great time to plant tree while there is still some warmth in the soil and after all the rain that has fallen there is plenty of moisture around to settle your freshly planted tree in.
Mothers Day - Instant Email Gift Vouchers
Great Offer: $50 for Mum + Bonus $10 for you so you can both enjoy the garden. Sent to your email address ( Not your mums ) you can then forward it on Mothers Day by email or print it out and give it to her in person.
Flowering now - Achiote - Save 10%
Achiote trees, Bixa orellana are covered in blossoms in the autumn and they are a lovely tree to brighten up your garden at this time of the year. Also called Annatto they are a South American tree that has long been used by people for the bright red colour that the seeds produce. Traditionally used for ceremonial body paint it is now used as a food colouring and will impart a deep earthy red to rice dishes. It is also the colour for Red Leicester cheese.
Save 10% on an Achiote tree when you use the promotional code in the checkout BIXA. Offer end 31st May.
Specimen Tree - Bottle Tree -
Freight
FREE
The Queensland Bottle Tree makes a fabulous specimen tree that keeps getting better with age. They are hardy and can handle a frost down to -8. The tree will grow quickly to 3-5 m then it will start to form its bottle shape but the bottles starts to form underground when the tree is only 10cm. Suitable for pots and bonsai they are very versatile in the garden.
We have beautiful bottle trees that are ready to plant and are offering the 70 mm Super Tubes - FREIGHT FREE.
Fruiting Now - Passionfruit - buy 2 get one FREE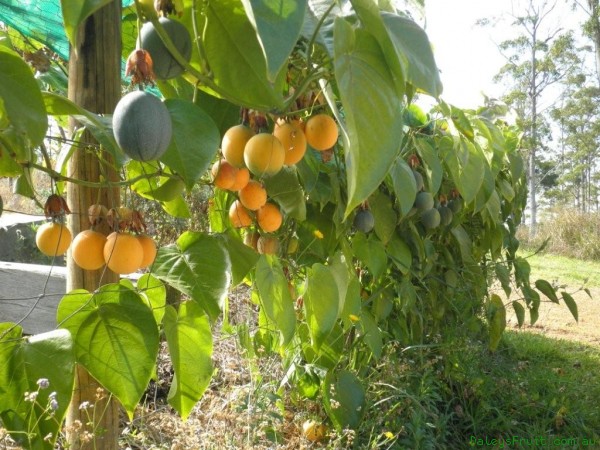 The passionfruit vines are dripping with fruit that we will be picking throughout the cooler months. They are a really productive vine to grow and an excellent choice to cover fences or as screening plants, be sure to have a sturdy trellis ready before you plant your vine that is at least 3-4 m long. The best thing about passionfruit is they don't all come on at once so you'll be enjoying them for many months. If you live in cooler climate the black passionfruits are your best choice but if you are in a subtropical or tropical climate you can grow a wide range of varieties with red, yellow, black and the more unusual granadillas to choose from.
Buy two passionfruit vine and get one FREE with this pack
http://www.daleysfruit.com.au/fruit-tree-pack.php?Fruit-Tree-Pack=81
HOT OFFER - Save
25%

- Dwarf Black Mulberry

The Dwarf Black Mulberry Tree is one of our all time favourite trees here at Daleys nursery, it is a compact tree growing to 3-4m and can be pruned to size. It produces a massive crop of delicious mulberries in the spring and if you prune it back by about 1/3 when it has finished cropping it will crop again in the autumn. Grow your own with this hot offer. Buy a Mega Tube ( MT ) usually $19.75 Dwarf Black Mulberry and save 25% when you use the promotional code in the checkout MULBERRY
Choose the middle one in the mega tube and enter code MULBERRY to get this offer. ( It does not apply to the other 2 Sized Mulberries.) Offer end 30th June.