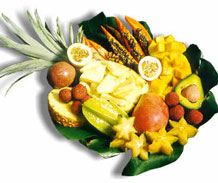 We hope you enjoy these fruit tree discounts. *For a Limited Time
Why are they Discounted?
- They are healthy and ready to send now but in a few weeks they will have outgrown their pots.
- We have an over supply of this product.
Fruit Tree Discounts
---
Fruit ellipical, green to brown; pulp is yellowy orange; 2-20 seeds/fruit. Pulp eaten roasted or boiled, mixed with rice. The tree is used as wood for construction. The leaves in decoction are used to cure intoxication by poisoned arrows.
---
Jaboticaba
The jaboticabas habit of producing the fruit directly on the trunk makes this a striking tree. Fruit is similar to a grape with a sweet and aromatic flavour. The new coppery growth along with their beautiful honey scented flowers makes it a very ornamental tree. Bears heavy crops of quality fruit that can be eaten fresh from the tree. Often fruiting up to 3 times per year. Time from flowering to fruit being ready to eat is only 30 days.
---
Pine Nut
An attractive large pine tree that bears cones of edible nuts considered a delicacy. Trees can be expected to start producing cones from about year 6. Each cone holds about 50 nuts and 100 kg of cones holds about 20 kg of nuts. Grows best in dry cold areas.
---
Jakfruit
A very handsome evergreen, reaching a height of 8 - 15 metres and bearing the worlds largest fruit. Fruits can weigh up to 20kg. Strong odour but is deliciously sweet. It can be eaten fresh or dried.
---
Black Sapote - Seedling
Closely related to the Persimmon this attractive glossy foliaged tree produces a fruit often called the 'Chocolate Pudding Fruit'. Delicious when eaten as a desert with cream and a touch of Rum or vanilla. Seedling selection worth growing in cooler marginal areas.
---
Eumundi Quandong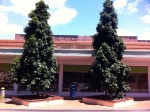 A slow growing, large, evergreen tree prized for its dark, green glossy, leaves and flushes of bronze- red new growth. Finely fringed flowers are attractive to birds. Uses include street tree, specimen tree, hedging, windbreak and on roadside plantings. Also known for use in timber production.
---
An outstanding small tree that prefers warm conditions and some shade. Striking edible purple fruits that make excellent jam. The var.jerseyana is the southern form which is generally a smaller plant than its the northern var. pruriens.
---
Passionfruit - Supersweet 96A
Grafted Pink Skinned passionfruit cropping most of the year. Large with sweet juicy pulp grafted onto Fusarium resistant rootstock. "This variety is owned by APIA and cannot be propagated without permission"
---
Grumichama - Black
The tropical equivalent of the cherry. The purplish-black fruit 2cm diameter are produced in clusters. Flesh white, melting and tasty. Mostly used for fresh eating, but also highly prized for jams, jellies and pies.
---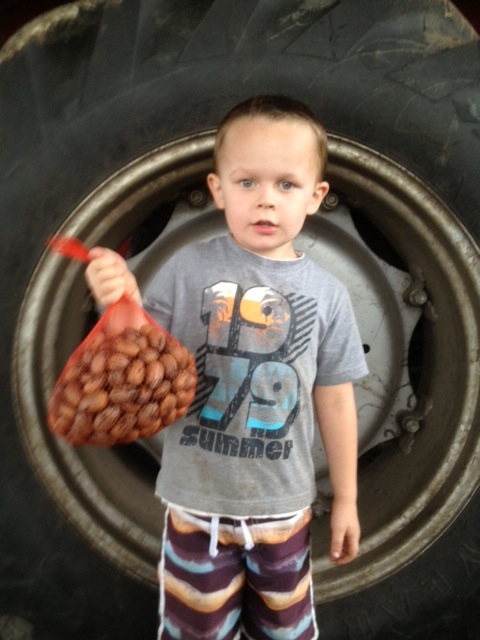 These Pecan Nuts were picked in April 2013 from Rods Pecan farm in Kyogle NSW. They are the Pawnee variety which are famous for their large nut size with a thin shell of exceptional quality and taste.
Great Price Even with Freight*
Learn More how buying from the farmer allows you to get a great price
They are easy to crack open you just hold 2 nuts in your hand and squeeze. Once one of them cracks you simply prize open to reveal the nut and enjoy!!
---
Davidsons Plum - QLD
Outstanding small tree for warm position or indoors. Large pinnate leaves & many-trunked habit make it a striking specimen plant. The edible purple fruits make excellent jam. Prefers some shade. Native to North QLD and SE QLD rainforests.
---
Attractive rainforest pine that bears greenish seeds on swollen edible stalks. The purple fruit are grape like with a sweet juicy pulp with a subtle plum flavour. The slightly resinous fruit can be used for both sweet and savoury recipes. It is an attractive hedge due to its contrasting dark and lime green foliage. The timber is popular as a cabinet making
---
Pineapple - F180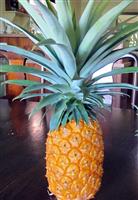 This selection is very sweet with low acidity. The pineapple makes a very attractive patio plant, which will reward you with fruit within 2 years. In the Bromeliad family it requires very well drained potting mix and a sunny warm position, otherwise very hardy.
---
This handsome pyramid shaped tree makes a superb tub specimen, hedging plant or topiary sculpture due to its positive response to pruning. The leaves of the bay are used as the popular culinary seasoning used in all types of cooking.
---
Bangalow Palm
Tall graceful, fast growing palm which can stand boggy ground, full shade or some exposure. Frost tender when young. Mature specimens display large clusters of bird-attractive red fruits.
---
Passionfruit - Panama Sweet Gold
A hybrid passionfruit that is vigorous and more tropical than the black. Fruit is yellow skinned, very large and very sweet pulp. This selection is self pollinating and a prolific producer. Grown by cuttings it is guaranteed true to type.
---
A clumping plant up to 1.5m in height with large, green, spade-shaped leaves. This plant has a fragrant flower and juicy sweet smelling, red fruits. All parts of this plant are poisonous. Believed to be the antidote for the Giant Stinging Tree.
---
Swamp Banksia
An upright shrub with large serrated leaves bearing large yellow-green brush type flowers. Performs well in open sunny positions with damp soil. Attracts nectar feeding birds.
---
NSW Xmas Bush
A delightful shrub used for cut flowers and ornamental plantings. Masses of red flower like bracts cover the trees in December. Likes well drained soil.
---
River Lily
A large lily that makes a great understory plant beneath eucalypts. Strap type leaves 2m long by 15cm wide. The white pleasantly perfumed flowers occur from November to March, are about 10cm across in clusters of 10-25.
---
Pecan - Riverside Seedling
Rootstock used for grafting pecan varieties onto. Strong growing seedling, also useful as a hardy shade tree and will produce nuts in 8-10years.
---
Brachychiton discolor - Lacebark
The large, bell-shaped flowers are usually deep pink and occur in clusters at the ends of the branches. The flowers are very spectacular and are followed by seed capsules which contain many large seeds.
---
Cordyline stricta - Narrow-leaved palm lily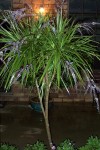 Medium shrub found in all major types of rainforest north of to the McPherson Range. An elegant plant with purple to black fruit, well suited to smaller gardens to create a lushious rainforest feeling. It can grow in sun or shade, and in shallow or deep soils. Though it thrives in moist conditions, it is very drought tolerant; so an established plant should require little supplemental watering. Its tolerance of low light and water also make it an attractive and low-maintenance potplant for indoors or outdoors.
---
Sterculia quadrifidia - Peanut Tree
A handsome compact tree reaching 5-10m, with spectacular seed pod - fire engine red lining with deep black edible peanut flavoured nuts. The tree will ususally fruit within 2-3 years. Semi deciduous in the subtropical climates.
---
Xanthostemon chrysanthus - Golden penda
A highly ornamental tree, native to Nth Qld Rainforests. Beautiful yellow flowers with prominent anthers occuring in winter. Its glossy green leaves makes it an ideal landscape specimen as far south as Sydney.
---
Podocarpus elatus - Plum Pine
Attractive rainforest pine that bears greenish seeds on swollen edible stalks. The purple fruit are grape like with a sweet juicy pulp with a subtle plum flavour. The slightly resinous fruit can be used for both sweet and savoury recipes. It is an attractive hedge due to its contrasting dark and lime green foliage. The timber is popular as a cabinet making.
---
Diploglottis campbellii - Small leaf tamarind
Listed as endandered in its native habit, this very attractive tree will capture the eye with its interesting red coloured fruit in summer. The tasty tangy fruit is a refreshing treat eaten raw or it can be used creatively in chutneys and sauces.
Comments (1)NEW | Forestry Tube | $1.95 AU | In Production |

Normally:$3.95 |
---
Pouteria australis - Black Apple
A tall tree with a fluted trunk and bushfood potential. This tree produces a small apple-sized fruit that is eaten by rainforest mammals. The edible flesh is a rich red, with a delicate, slightly sweet flavour. 28m
---
Pittosporum rhombifolium - Queensland Hollywood
An attractive shrub with flowers regularly in summer. The leaves are a dull dark green with a pale midrib and maroon stems. Droplet-shaped fleshy, black fruits appear during winter and early spring, each containing several rounded yellow-spotted seeds.
---
Acacia elata - Cedar Wattle

A handsome fast wattle with ferny dark green foliage. New growth is a pink bronze colour and flowers are cream. A long lived wattle.
---
Casuarina cunninghamiana - River She-oak
Riparian species. good choice for windbreaks and compacted soils with the added advantage of being nitrogen fixing. It is a conical evergreen tree with pendulous needle-like foliage.
---
Acacia fimbriata - Fringe wattle
Fast growing, profusely flowering with small yellow balls. Foliage is light green with a soft appearance. Best used as a temporary fill-in for screens or windbreaks while slower growing trees develop. Native of south-east Qld and northern NSW. 5m
---
Pouteria chartacea - Thin-leaved Coondoo
An understory tree of 10 - 12 m, from Byron Bay to the northern tip of Cape York. Slow growing but forms a well shaped bushy tree.
---
Allocasuarina torulosa - Forest Sheoak
Ornamental, slender, upright, medium sized tree with thick, corky bark and large flat topped seed pods. Handsome weeping tree for home gardens and parks. Suitable to most soils and situations. Fast growing and tolerant of moderate frosts.
---