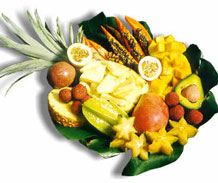 We hope you enjoy these fruit tree discounts. *For a Limited Time
Why are they Discounted?
- They are healthy and ready to send now but in a few weeks they will have outgrown their pots.
- We have an over supply of this product.
Fruit Tree Discounts
---
A spectacular deciduous tree with foliage that begins to change from mid-green to a brilliant rich claret. Grafted onto a very drought resistant rootstock Fraxinus oxycarpa.
---

Most popular red muscadine grape for wine or juice production. It is self-fertile. Yields and disease resistance are high, and berry ripening is fairly uniform. Flavour is less musky than most muscadine grapes. Excellant fresh eating or good for wine making. Exclusive to Daleys this is a recently released Florida variety.
---
Closely related to the Persimmon this attractive glossy foliaged tree produces a fruit often called the 'Chocolate Pudding Fruit'. Delicious when eaten as a desert with cream and a touch of Rum or vanilla. Seedling selection worth growing in cooler marginal areas.
---
A very large majestic tree with a straight trunk, large prickly leaves and separate male and female flowers. The 10kg female cones contain delicious edible nuts that can be eaten raw or boiled to make extraction from the hard shell easier.
---
Tubers can be eaten raw as a refreshing treat on their own, finely sliced and mixed into salads,boiled or baked, fried as chips or prepared as a pickle. There is also commerical interest as a flavouring for yoghurt. They are sweet, juicy and almost calorie free. The main stem can also be used like celery. The texture and flavour have been described as a cross between a fresh apple and watermelon.
---
The tropical equivalent of the cherry. The purplish-black fruit 2cm diameter are produced in clusters. Flesh white, melting and tasty. Mostly used for fresh eating, but also highly prized for jams, jellies and pies.
---
Also known as the Tree Tomato is a very quick growing small tree that bears heavy crops of red sub-acid succulent fruit. Prefers a sheltered spot with well drained soil
---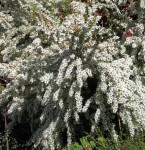 A spectacular, weeping, evergreen, native shrub, which is ideal for screening and windbreak planting Covered in masses of large white flowers in spring which attract nectar feeding birds. Hardy, tolerates frosts, height to 2m.
---
Attractive rainforest pine that bears greenish seeds on swollen edible stalks. The purple fruit are grape like with a sweet juicy pulp with a subtle plum flavour. The slightly resinous fruit can be used for both sweet and savoury recipes. It is an attractive hedge due to its contrasting dark and lime green foliage. The timber is popular as a cabinet making
---
Medium round fruit 50mm diameter. Skin light: yellow, slightly blushed with red. Flesh creamy white, thick, very sweet, fine-textured, excellent for dessert. Seed cavity small with relatively soft seeds. Tree upright.
---
Ginger like plant growing in clumps, makes an excellent low screen adding a tropical feel to any garden. The seeds don't resemble true cardamon, the leaves can be used in desserts, to add flavour when steaming rice or used to wrap fish.
---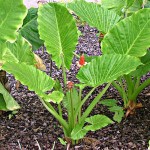 A clumping plant up to 1.5m in height with large, green, spade-shaped leaves. This plant has a fragrant flower and juicy sweet smelling, red fruits. All parts of this plant are poisonous. Believed to be the antidote for the Giant Stinging Tree.
---
A bright a cheerful ornamental foliage plant with streaks of yellow,, orange, red and green. Prefers a well-lit situation with protection from hot sun. Good drainage is essential.
---
Resistant to both 'Berry Disease' and 'Coffee Rust' this tree was developed and recommended for growing in the Northern Rivers Area by NSW Agriculture Department after extensive trials at Alstonville NSW. An open spreading variety, it is a reliable cropper, producing large flavour-filled beans; it is also the recommended variety for those who intend to harvest mechanically.
---
This popular Asian cooking ingredient is a tropical member of the sedge family. These nutritious underground corms reaching up to 4cm in diameter have an appealing crisp nut like texture. They can be cooked as a vegetable offering a contrasting texture to many dishes or they can deliver their sweetness and juiciness prepared fresh and raw or lightly steamed or sautéed for salads
---
Evergreen Australian tree grown for it's beautiful highly perfumed spring flowers. Originally from rainforest areas, this tree has glossy pointed green foliage. In Spring a mass of sweetly fragrant yellow flowers almost hide the leaves. Quick growing to 12mtrs. Tolerant of frosts when established.
---
The fresh or dried leaves can be used as a sugar substitute to sweeten cakes, drinks or desserts and are the only natural sweetener to have zero calories, carbohydrates and a zero glycemic index.
---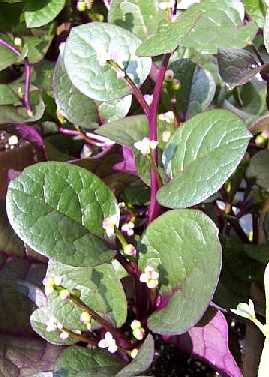 Leaves are high in vitamin A, vitamin c, iron and calcium. Malabar spinach may be used to thicken soups or as a leafy green in stir fries.
---
An attactive annual bushy shrub with flowers and fruit used to give colour and flavour to jams, fruit punches, sauces and desserts. A relative of the hibiscus family, best grown in rich soil in a sunny position.
---
The Coolamon reaches upto 25 - 30m. A rainforest tree it is also an endangered species. Plant in rich soil with adequate moisture. Attractive red-pink flowers with large edible fruit.
---
Rootstock used for grafting pecan varieties onto. Strong growing seedling, also useful as a hardy shade tree and will produce nuts in 8-10years.
---
Occurs naturally North N.S.W. to South Qld in dry rainforests. A tree with attractive foliage, red flowers and brown berries. Paly yellow timber valued for cabinet work. Excellent landscape tree.
---
Acmena smithii - Creek Lilly Pilly
Attractive small tree has the ability to survive in a wide range of habitats. The small white fluffy blossum are born in early summer with mass fruitings occurring in autumn every few years. Most hardy frost tolerant lilly pilly
---
A hardy tree for drier sites frequently grown for shade or stock fodder. Trees have a straight stout trunk and produce cream flowers in spring. Indigenous Australians used the bark fibres to make rope and string, the wood was used for fire sticks. A common tree in drier rainforests.
---
This beautiful tree is planted all around the world but is naturally endemic to the rainforests of Qld and NSW. The name Wheel of Fire comes from the red flowers that resemble a flattened wheel. The timber is used for cabinetwork. To 30m
---
Fast growing decidous rainforest tree, highly valued for its timber in earlier days. Has now become rare. With grow easily on moist soils of eastern Australia.
---
Waterhousea floribunda - Weeping lilly pilly
Medium to large tree, normally inhabiting creek banks. Drooping foliage, usually with some bright red leaves. White flowers. Very fast and hardy if ample water is available.
---
Kangkong ( Water Spinach )
The leaves and stem are soft and edible. The stem is hollow, green and purple in colour while the flowers are white and purple in the centre. The leaves are heart shaped and the seeds are dark brown.
---
Syzygium oleosum - Blue Lilly Pilly
A native tree with delightful purple fruit this is a favourite of the lilly pilly group. The delicate fruit is aromatic with a sweetish slightly gingery or turpentine flavour. Fruit is spongy and delicate. The glossy green leaves have numerous large oil glands that give a distinctive smell when crushed and distinguish it from other lilly pillies.
---
Syzgium paniculata - Magenta Cherry
Most popular native hedging plant in Australia. Attractive dense glossy new growth. Also edible crunchy cherry like fruit.
---
The small leaved lilly pilly produces masses of red pear shaped fruit. Its handsome purple-red growth makes this lilly pilly one of the favourites. The fruit exhibits a juicy but slightly acidic clove-like finish reminiscent of cinnamon. It is a very popular ingredient in wildfood dishes.
---
This hardy shrub is probably the best known bottlebrush and is widely cultivated. The bright red flower-spikes appear in summer and autumn. Grows well in wet conditions. Plants should be lightly pruned and fertilised after flowering. 4m
---
Very fast growing slender tree with ferny foliage and bright yellow toothbrush flowers. Grows in a wide range of conditions including southern and inland areas. Good indoor plant.
---
Fast growing medium tree with scented flowers and golden-yellow bird-attractive berries. Briefly deciduous. Hardy.
---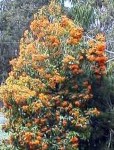 An attractive shrub with flowers regularly in summer. The leaves are a dull dark green with a pale midrib and maroon stems. Droplet-shaped fleshy, black fruits appear during winter and early spring, each containing several rounded yellow-spotted seeds.
---
Fine scented foliage and profuse white flowers appearing in spring/summer. Tolerant of most well-drained soils and situations, including waterlogging and moderate frosts. Excellent riparian tree.
---
These trees resemble a eucalypt in appearance but the large green leaves and flowers are distinctive. It has the largest trunk diameter of most rainforest trees. The showy flowers have showy white petals. Fruit is bell-shaped with three valves.
---
Ornamental, slender, upright, medium sized tree with thick, corky bark and large flat topped seed pods. Handsome weeping tree for home gardens and parks. Suitable to most soils and situations. Fast growing and tolerant of moderate frosts.
---
A tall spreading gum, native to Norht Eastern NSW. The bark is shed in long strips revealing a smooth white bark, but is often scaly and corky at the trunk base. Highly recommended for quick growing forestry plantations.
---
An understory tree of 10 - 12 m, from Byron Bay to the northern tip of Cape York. Slow growing but forms a well shaped bushy tree.
---